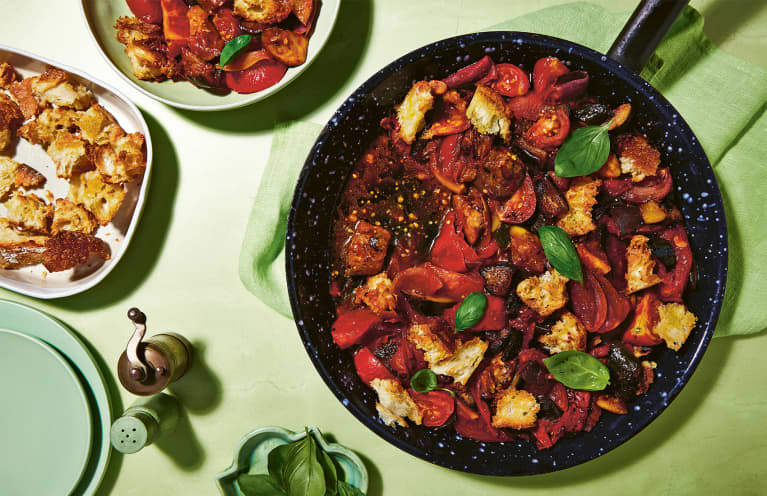 Our editors have independently chosen the products listed on this page. If you purchase something mentioned in this article, we may earn a small commission.
November 29, 2021 — 23:04 PM
There's something so satisfying about a big pan of veggies. Still, while we love roasted vegetables as the basis for a tasty meal, sometimes we don't want to go as far as heating up the oven. That's where a dish like this delicious stovetop ratatouille comes into play.
This dish only requires one pot, which is the basic premise of all the recipes in One Pan, One Hob, One Meal by Elena Silcock. "This took me the longest time to perfect," she writes of the recipe, "For such a simple dish, there sure are a lot of different ways to make it!" But she landed on this mix, which she says is " a little sweet, a little sharp and a lotta comfort."
What's more, if you make a big batch, Silcock has ideas for how to repurpose the leftovers: "Sometimes I make a double or even triple batch of the ratatouille as it's so versatile: toss it into pasta, pile it on top of toast or pizza, or just eat it straight out of the refrigerator when you need a snack."
My Ultimate Ratatouille With Sourdough Croutons
9 oz sourdough bread, torn roughly into chunky cubes 
3 tablespoons olive oil, plus extra for drizzling 
2 small aubergines, cut into 1¼ inch chunks
2 small zucchini, halved lengthways and cut into rough chunks
2 red onions, cut into wedges
6 juicy and ripe tomatoes, around 14 oz, cut into wedges
2 garlic cloves, finely sliced 
2 roasted red peppers from a jar, torn
14 oz can tomatoes (either cherry or plum tomatoes—get the best quality you can, as it'll make a real difference here)
1 teaspoon caster or light brown sugar (editors note: coconut sugar would work for a low GI swap here!)
1 to 2 tablespoons balsamic vinegar
sea salt and freshly ground black pepper
fresh basil leaves, to serve
Place the chunks of bread in a large non-stick frying pan, off the heat. Drizzle over 2 tablespoons olive oil and season with salt and pepper, then use your hands to make sure the bread chunks are well coated in the oil. Now place the pan over a medium–high heat and fry for 6–8 minutes, tossing regularly, until you have crisp croutons that are charred in places. Transfer the croutons to a plate and set aside. Remove any crumbs from the pan.
Keeping the pan over the same heat, add the aubergines and courgettes, along with a big pinch of salt, and dry-fry for around 8 minutes, tossing regularly, until charred and collapsing. 
Add 1 tablespoon olive oil to the pan, then toss in the red onion wedges with another pinch of salt. Give everything a good stir.
Don't worry if your pan looks a little overcrowded; it'll all cook down. Fry for another 10 minutes, tossing regularly, until everything is softening and caramelizing. 
Now add the tomato wedges and garlic. Cook for a few minutes, then stir in the roasted red peppers. Stir to combine, then add the can of tomatoes, along with the sugar. Use the back of your spoon to smush the tomatoes into the mixture. Reduce the heat to low, cover with a lid and cook for 25 minutes. 
Remove the lid, increase the heat a little and simmer for 5 more minutes, stirring, so that the sauce reduces. Remove from the heat and stir in 1 tablespoon balsamic vinegar. Taste and add another tablespoon if you feel it needs it: it will depend on how acidic your tomatoes are. Season to taste. 
Scatter the crispy croutons on top, pressing them into the mixture slightly. Rest for a few minutes, then top with basil and drizzle over a little olive oil. Finish with a crack of black pepper and serve. 
https://www.mindbodygreen.com/articles/one-pan-stovetop-ratatouille