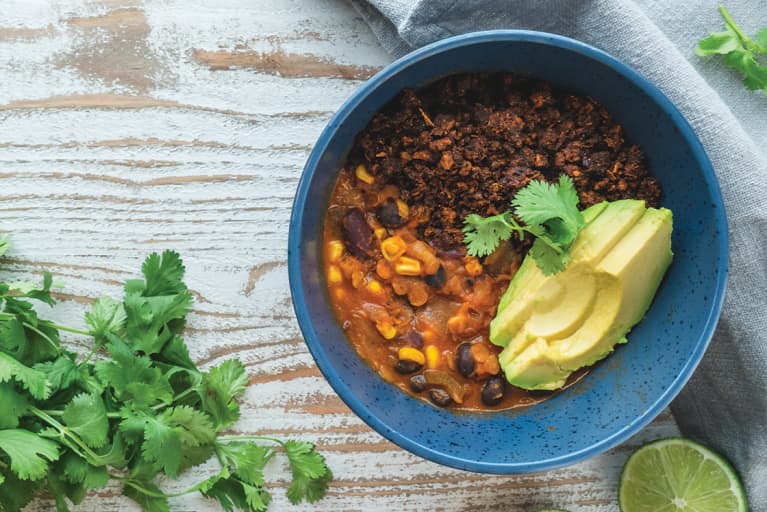 Our editors have independently chosen the products listed on this page. If you purchase something mentioned in this article, we may earn a small commission.
November 4, 2021 — 15:06 PM
On cold days, there's nothing more satisfying than a bowl of soup or stew—and one of the best for those ultra-frigid evenings is a chili with just enough spice to really warm you up. But anyone following a plant-based or vegan diet will know that simple bean chilis can get monotonous; a problem this recipe from chef Dan Churchill of Charley St in New York solves with true expertise.
With the help of a plant-based chorizo (which they sell on the Charley St website), this recipe ups the ante with spice and three types of legumes: chickpeas, lentils, and black kidney beans. Spices including cumin, smoked paprika, turmeric, and garlic powder join aromatic onion and a mix of veggies to form the base of this comforting dish.
Thanks to the combination of plant-based protein, intense flavor, and plenty of fiber, this chili is sure to keep you feeling nourished, and the blend of spices will keep you warm, too—even on the chilliest of days.
2 tbsp. olive oil
1 onion, chopped
4 garlic cloves, finely chopped
2 large carrots, finely chopped
2 red peppers, chopped
1 can black kidney beans
2 cups Charley St Chorizo or other plant-based chorizo product
1 can chickpeas
1 can lentils
1 large can crushed tomatoes 
2 tbsp. tomato paste
1 tsp. cumin 
1 tsp. smoked paprika
½ tsp. turmeric
1 tsp. garlic powder
Sauté onion and garlic in olive oil for 6 to 8 minutes.
Add carrot and peppers and sauté for another 6 minutes.
Add beans, chorizo, and lentils, along with tomatoes and tomato paste. Sauté 2 to 3 minutes.
Add your spices and stir well. Add 1 cup of water, bring to a low boil, then turn to low and let simmer for 15 to 20 minutes.
Plate with brown rice or quinoa and top with smashed avocado for a protein-packed plant-based meal.
https://www.mindbodygreen.com/articles/plant-based-chorizo-chili