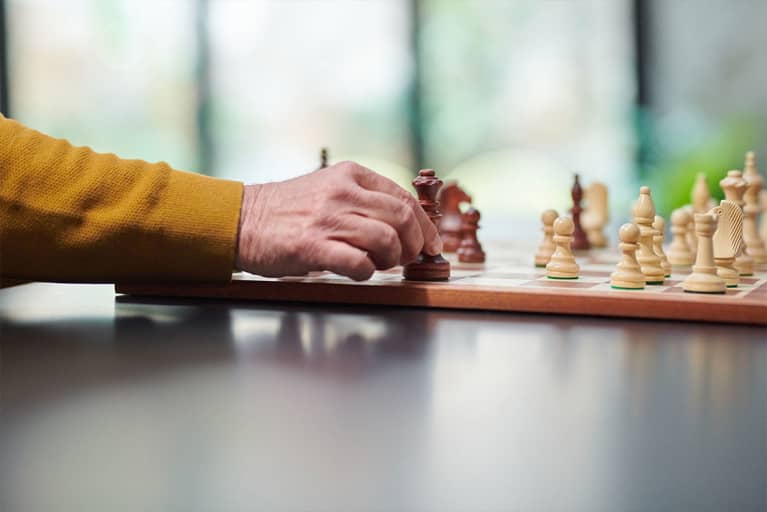 Supporting your brain longevity may become even more top of mind (pun intended) with age. While most people associate aging with becoming less sharp, there are habits you can adopt to keep your brain in good shape over the years. And new research suggests a 'game-like intervention' called Synapsology may just be one of those beneficial brain-supporting methods.
The research, conducted by a team at the University of Tsukuba explains that Synapsology, a program that engages both the mind and the body, has proven to be effective in stimulating brain activity and helped sustain or improve participants' cognitive behavior. So what does this mean for the future of brain health, and how can you support your own mental function?
Participants of this small study in Japan (24 total), ranging in age from 85 to 97 years old were split into two groups (intervention and control). The intervention group then underwent 24 weeks of sessions, and twice a week for 60 minutes they engaged in a game-like activity called Synapsology which essentially calls for use of both the brain and body to focus on two different basic tasks. 
When the 24 weeks were up, participants in the intervention group were found to have improved both cognitively and physically, and were able to maintain those results. Meanwhile, those in the control group remained the same in their mental capacity. 
The idea around Synapsology is to combine classic, simple games that require motor function (such as rock, paper, scissors), and activities that require brain power (a math calculation or memory game) in order to stimulate and improve cognitive and physical function over time. The program is even designed for older participants to activate multiple regions of their brain, displaying the benefit of challenging the brain to stay sharp.
Due to the small volume of this program, it's hard to consider any of the results far-reaching—although they do show promise. Additionally, the program was only tested on older people in a nursing home in Japan, so it would be worth expanding the test group to include other demographics and perhaps even a younger population to see if training the brain earlier can help support cognitive longevity.
How to support your brain health.
On a more positive note: there's plenty you can do for your brain and body in the meantime to preserve cognitive function and keep yourself alert. Among some of our favorite methods are:
Taking care of your mind and body throughout the years is undeniably one of the best ways to support brain longevity, but this study shows that even in older age, there are things you can do to stay sharp and alert.
Of course, the study does not factor in genetic predisposition to certain conditions, but that's not to say you shouldn't continue to make brain preservation activities a priority in your day to day!
https://www.mindbodygreen.com/articles/study-shows-this-activity-may-help-improve-cognitive-function-in-80s