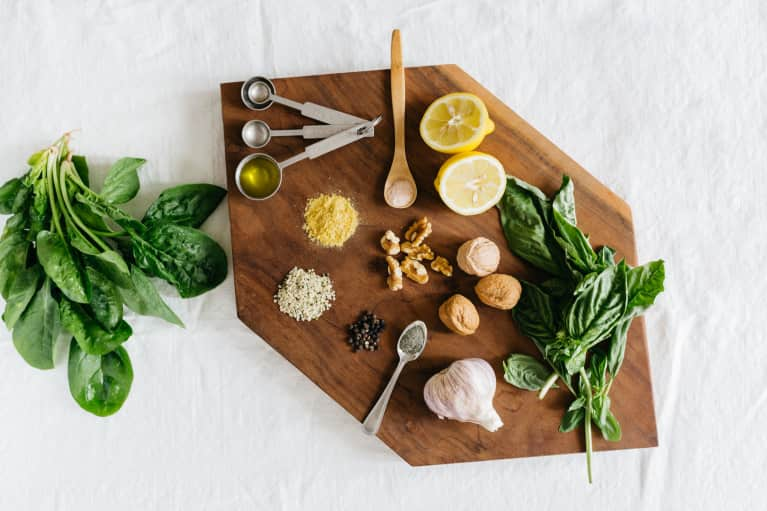 January 6, 2022 — 11:23 AM
Granted, probing a gastroenterologist for their all-time favorite ingredient often does not yield a simple answer. Plenty of foods nurture the healthy bugs in your gut—from probiotic-rich staples to fermented superstars and more. In fact, integrative gastroenterologist Marvin Singh, M.D., offered a list of top 10 foods for optimal gut health on the mindbodygreen podcast, and even that lineup was tricky to narrow down. 
All that to say, it's much easier to choose a top-tier ingredient from each food category. So for now, let's highlight healthy nuts and seeds: If he had to choose one, Singh considers walnuts a gut-supporting star. Here's what makes them so gut-friendly and (bonus!) a bunch of recipes to try. 
Why walnuts are great for gut health. 
"They are a good source of vitamin E, they have polyphenols, and they can be a source of omega-3s," says Singh. And omega-3 fatty acids (ALA), while often touted for their heart and brain benefits, play a significant role in gut health as well.* Along with EPA and DHA (found from marine sources, not nuts), these three omega-3 fats have incredible anti-inflammatory properties, so much so that researchers have even considered them prebiotics that feed your healthy gut flora.* Not to mention walnuts are also a good source of fiber, which can also help feed your healthy gut bugs.  
And aside from their gut-supporting benefits, walnuts are also top notch for longevity: A study conducted by researchers at the Harvard T.H. Chan School of Public Health even suggests walnuts can help you live longer by approximately 1.3 years! 
Of course, you can always grab a handful of walnuts for a snack and call it a day. "Instead of going for a bag of chips and a soda, you can go for an apple and a handful of walnuts with a green tea instead. That's a totally different profile of nutrition you're giving yourself," Singh offers. 
But for those who love a little recipe inspiration (who doesn't?), we grabbed some of our favorite walnut-based meals below. 
1.
Lentil-walnut baked ziti. 
In terms of comfort food, you can't go wrong with this vegan lentil-walnut baked ziti. The walnuts and lentils not only add hearty protein but a satisfying crunch to the dish—and the homemade sauce is bright and flavorful. The best part? It takes only one pot to make. The most difficult task will be choosing which pasta to use as your base. 
"Olive oil cakes are a classic in Italy, but here there's no flour, no sugar and nothing artificial," says cardiologist Steven Gundry, M.D., of his healthy alternative. The walnuts give the cake a nice crunch, while the warming spices will make your kitchen smell like heaven. "For an extra-special treat, spread a little coconut whipped cream on your cake—it is positively decadent!" he adds. 
You've heard of peanut butter and almond butter—what about walnut butter? With its high omega-3 content, walnuts certainly make for a super spread. We especially love this colorful, dreamy option from Butterfly, which has a nutrition bonus from blue spirulina, but you can find all of our favorite nut butters here. 
4.
Plant-based ground "beef." 
This meatless "ground beef" is packed with fiber: Oats, for example, offer 8 to 16 grams per cup, and mushrooms, walnuts, and chickpeas are all good sources, as well, to help promote better gut health and digestion. And let's not forget about those king trumpet mushrooms, which have a number of health-supporting antioxidants. These crumbles are also so easy to prep; you can have them ready to use for anything from tacos to a vegan Bolognese sauce.
5.
Yogurt bowl with paleo granola. 
For a no-fuss, hearty breakfast, this nutty granola is a surefire winner. Packed with walnuts, almonds, and cashews, it's filled with protein and healthy fats—it may quickly become a regular part of your weekly routine. Sprinkle your granola over a coconut yogurt bowl with a drizzle of strawberry compote, and you won't be disappointed.
Thanks to their gut- and longevity supporting health benefits, walnuts are a worthy add to your regular eating plan. Plus, they're pretty versatile in both sweet and savory recipes. Enjoy!
If you are pregnant, breastfeeding, or taking medications, consult with your doctor before starting a supplement routine. It is always optimal to consult with a health care provider when considering what supplements are right for you.
https://www.mindbodygreen.com/articles/why-walnuts-are-great-for-gut-health-plus-tasty-recipes