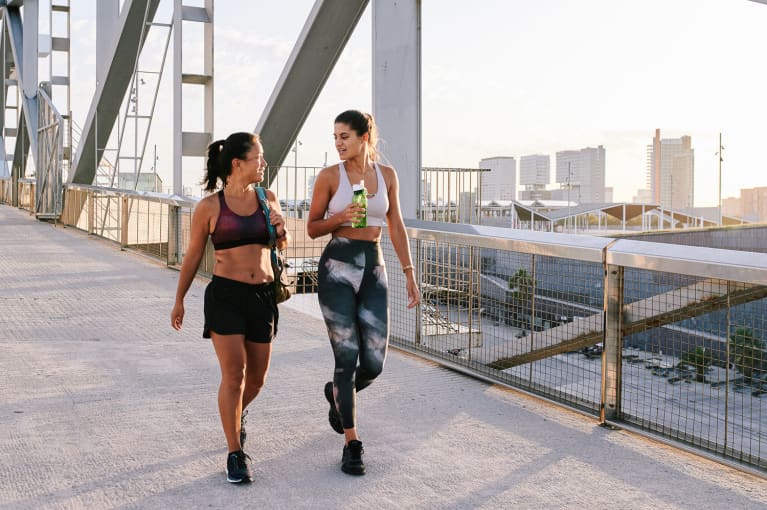 Our editors have independently chosen the products listed on this page. If you purchase something mentioned in this article, we may earn a small commission.
August 28, 2021 — 9:05 AM
Reaching 10,000 steps per day seems to be the standard recommendation for many wearables and fitness trackers, but in case you didn't know—that number is completely arbitrary. In fact, it's likely traced back to 1965, when a Japanese company created a pedometer named Manpo-kei, which translates to "10,000 steps meter." And thus, the standard was born. 
In terms of health myths, it's certainly not a harmful one, especially if it inspires you to move more—some people appreciate the specific metric. But according to longevity expert Sergey Young, founder of the Longevity Vision Fund and author of The Science and Technology of Growing Young, you don't actually need to reach 10K to reap the benefits. As he explains on the mindbodygreen podcast, after a certain (and much lower) step count, the health benefits seem to plateau. 
How many steps you actually need per day.
Young tells us that 7,000 steps is a more accurate number. Anything after 7,000, and "it's almost like a plateau," he says. Research backs it up: One study found that women who averaged approximately 4,400 steps per day had significantly lower mortality rates compared to women who took approximately 2,700 steps per day; however, the mortality rates leveled out at around 7,500 steps per day. Meaning, more steps taken per day was associated with increased longevity—but once you hit 7,500 steps, it doesn't seem to add any more benefit.
Or take this 2020 study: Researchers did find that taking more steps per day was significantly associated with lower mortality, but when they measured those who took 8,000 steps versus 4,000 steps, they didn't see much of a difference. 
However, just because those extra 3,000 steps might not make a significant difference doesn't mean we should brush off the 10,000 steps per day recommendation. "I tend to communicate 10,000 because we need to have a little bit of a moonshot in terms of steps," says Young. In other words: If people aim for a goal of 10,000 steps per day, in practice they might actually hover around 7,000—in this case, they're still maximizing the benefits. 
And of course, any movement you can fold into your daily life is ideal. Try to follow whatever routine is most realistic and available to you. "The beauty of walking is that you don't need to dedicate a lot of time to it," says Young. "You can integrate it into your healthy lifestyle." 
OK, so you might only need 7,000 steps per day; beyond that, the benefits seem to plateau. It's nice to know, but perhaps continue to make 10,000 steps your goal—that way, if you fall short, you're likely still covering enough ground.