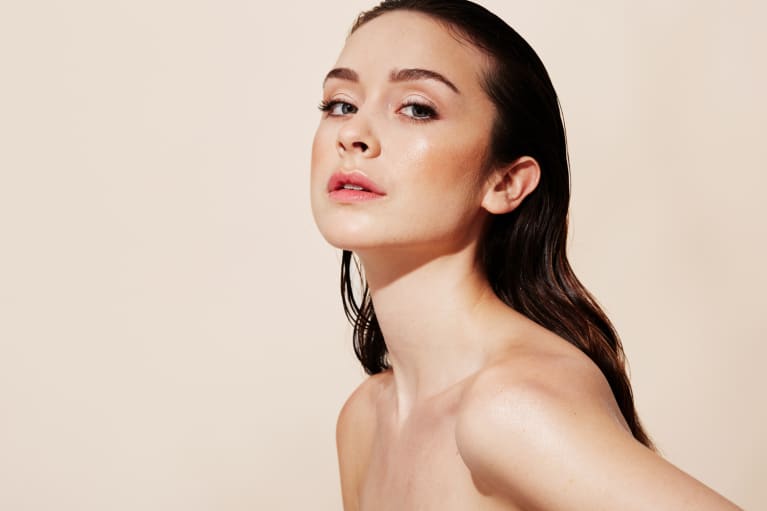 April 28, 2021 — 21:11 PM
Brutal winter is well behind us (rejoice!), and yet—its lingering effects can certainly show up on our strands. As beauty fans know all too well: Once your hair is zapped from moisture, well, replenishing it is like a full-time job. 
So when it comes to hydrating treatments, you want something that truly puts in the work, which brings us to a recent TikTok video by New York City–based hairstylist Matt Newman: His favorite treatment to coax hair back to fresh and bouncy is a tried-and-true, one-ingredient wonder. No bells and whistles, here—just a trusty argan oil mask. "This is a great pre-shampoo treatment for dry hair like mine," he says. 
Why argan oil is great for dry hair. 
When it comes to hair-healthy oils, argan has a centuries-old following. "It's great for many conditions, especially dry, damaged hair because its trove of fatty acids lock moisture into the hair follicle," says Bindiya Gandhi, M.D., a family medicine physician and mbg Collective member, about using argan oil for hair. 
Specifically, these fatty acids help smooth down frayed hair cuticles—and as a general rule, anything that helps seal the cuticle is top-notch for soft, shiny strands. In fact, studies show that 99% of the stuff is made up of triglycerides, or essential fatty acids. That remaining 1%? A winning combination of potent botanicals and antioxidants, like vitamin E. 
How to make your own argan oil hair mask. 
Choose your own adventure here: Either apply argan oil as a quick pre-shampoo treatment (à la Newman) or as an overnight mask for extra moisture. 
If you'd like to take Newman's route, separate your hair into sections and pump a quarter-size dollop of argan oil (like this 100% Pure Argan Oil from Josie Maran) into your palm. Warm it up in your hands, and saturate the section from root to tip, repeating until all your strands are slick. 
Newman then gently detangles his locks while the oil settles in—the oil provides some slip and can make it easier for you to work through any snarls. Just be very, very careful not to pull on your precious strands—and if you have curls, you might want to wait to detangle in-shower when your hair is sopping wet. Let the argan oil do its magic for 20 to 30 minutes before rinsing thoroughly. 
As for the overnight argan oil treatment, the steps are virtually the same—you're just, you know, letting it soak overnight. "For an overnight mask, argan oil should be applied starting from the scalp all the way to the ends of the hair," says hairstylist Lucia Casazza about argan oil's beauty benefits. After your strands are coated, wrap them in a microfiber towel or cap (so you don't make a mess of your pillow), and rinse everything out come the a.m. 
Let's be honest: Treating dry, dull hair is no walk in the park. That's why you'll want to use targeted ingredients that truly withstand the test of time, putting in the work for centuries—like, oh, argan oil.
https://www.mindbodygreen.com/articles/the-best-oil-mask-for-dry-hair