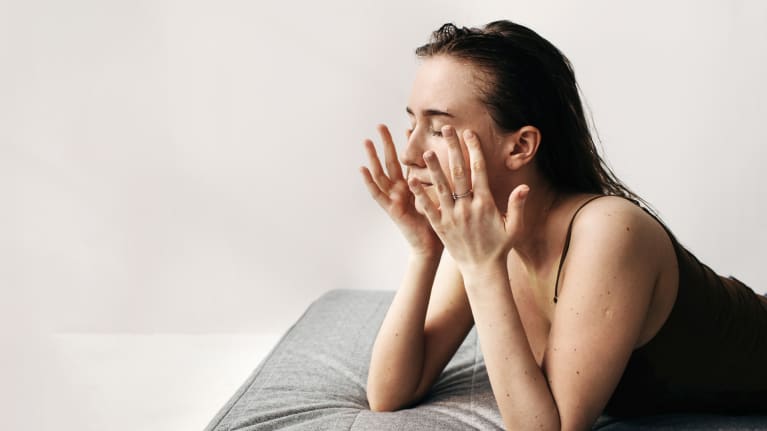 Our editors have independently chosen the products listed on this page. If you purchase something mentioned in this article, we may earn a small commission.
November 29, 2021 — 12:03 PM
If you're feeling puffy after your Thanksgiving festivities, well, same. Not only does the salt- and sugar-heavy feast lead to fluid buildup, but holiday travel just generally derails my skin and sleep schedule—which bestows on my complexion a wonderful combination of dryness and puffiness. And I don't know about you, but my eye area is usually the first to betray those signs of wear. (Because the skin there is naturally so thin, I'd wager puffy eyes are a common issue for many of us right now.)
That said, bring on the ice rollers, eye masks, and facial massages. Each feels lovely on the skin (that alone is a reason to indulge), but physically kneading the area can especially help dial down some of that swelling. I recently came across a simple tutorial on TikTok meant specifically to tighten and lift the eyes—a notoriously tricky region, since you have to be extra careful with the sensitive skin. Go ahead and try it if you're feeling puffy. You won't be disappointed. 
A quick facial massage for the eye area. 
Like most facial massages, the key is to float your fingertips upward and outward. This encourages more circulation in the tissue, which helps reduce puffiness and delivers oxygen and nutrients to the skin cells (thus leading to a lit-from-within glow). Of course, you'll want to grab an oil or moisturizer for some slip—especially if you're about to massage the delicate eye area.
Bonus points if your moisturizer contains ingredients known to help with fluid mechanics in the body, like caffeine (we love BYBI's C-Caf Cream). Caffeine is a vasoconstrictor (it compresses blood vessels in the skin), which can help reduce flushing and support resolution of inflammatory pathways—both of which can lead to swollen eye bags. Banana extract is also a star ingredient: "The high level of potassium in bananas helps counteract the salt that leads to fluid buildup," writes integrative medicine physician Bindiya Gandhi, M.D., about puffy eyes.  
Grab your product of choice, then follow along below: 
First, sweep two fingertips from the corner of your mouth all the way up to your temple, like you're tracing your cheekbone in a J-shaped slope. 
Next, do the same motion starting from the corner of your nostril: Sweep your fingertips up to your temples using that same J-shape. 
Then start from the bridge of your nose, gliding across your under-eye out toward your temple (make sure to be super gentle on the skin, here; add more slip if it feels like you're tugging at the skin). 
Finally, trace your eye shape the other way: Glide your fingertips just under your brow bone, following that crevice until you reach your temple. 
Repeat each motion on the other side of your face.  
Just one more time for the people in the back: Use extra-gentle pressure on your eye area. Pulling or tugging on the delicate skin will only make things worse down the line. 
Facial massages are fabulous for stimulating muscles and blood flow, which can help bring down some of that post-holiday puffiness. As someone who frequently wakes up with swollen eyes, I'll be adding these easy steps to my morning facial massage routine.
https://www.mindbodygreen.com/articles/quick-facial-massage-to-tighten-and-lift-eye-area