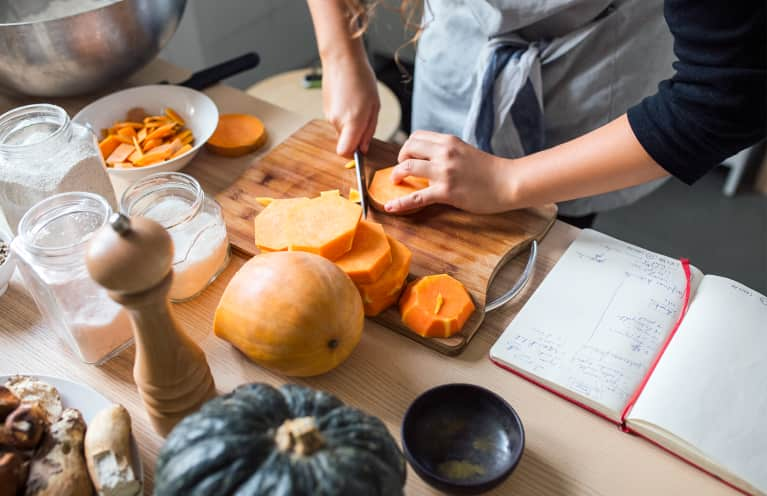 October 21, 2021 — 22:32 PM
If you, like me, are often seduced by the beauty of a whole squash in the produce section—only to get home and risk your fingers trying to break it down—this one's for you (and me, because, same).
With the larger varieties, like spaghetti squash and butternut squash, two steps can be particularly difficult: 1) cutting to split it in half and 2) peeling. But this three-minute hack can help make both of those tasks a whole lot easier—and safer—so you can get cooking all those delicious squashy recipes you've bookmarked for fall (or any of the recipes at the end of this article).
The three-minute trick that makes it all easier.
Instead of battling with the squash immediately, take a moment to prepare it so your peeling and chopping become more leisurely—by softening the squash first. The simplest way to do that? Pop it in the microwave. But before you just go putting the whole squash in, there is a bit of prep to be done. Here's how to do it:
Use a fork to poke holes all along the outside of the vegetable.
(Carefully!) Cut off the top and bottom of the squash—two slices may still be annoying, but it's better than wrestling with it.
Pop the squash in the microwave for around 3 to 4 minutes.
Let it cool down some before grabbing it (it might hurt to grab right away), and then you can go to town with your peeler and paring knife.
While it may seem like a bit of extra work—if you've ever struggled to halve a spaghetti squash or to peel a butternut squash, this is the trick to try.
Looking for a little more squash inspiration?
If you're thinking: Great, now that I'm not afraid of them anymore, how should I use these giant veggies in my meals? Have no fear—we've got some suggestions.
Some of our favorite ways to use butternut, spaghetti, and other squashes in fall:
So whether you're grabbing the go-to butternut or branching out more this fall, squash should definitely be on the menu—and now you can make sure you're prepping it safely, too.
https://www.mindbodygreen.com/articles/how-to-cut-squash-safely