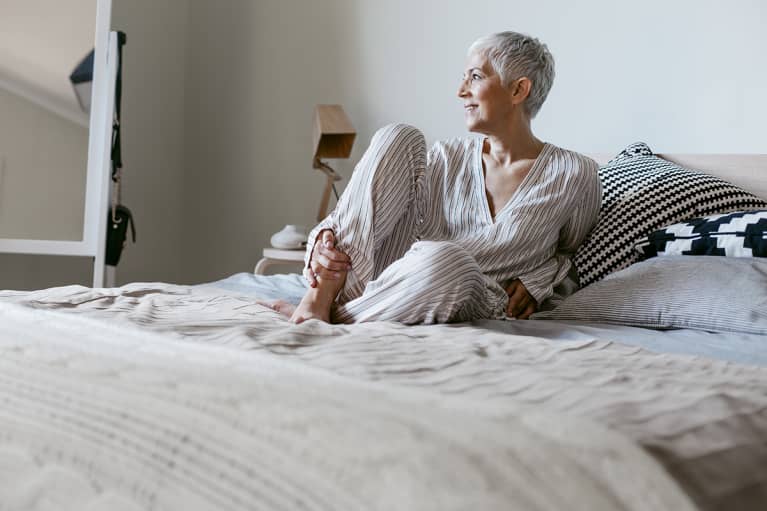 Finding the perfect gift for my mom is incredibly difficult. If she really wants something, she'll buy it herself. This leaves me scrambling ahead of Mother's Day to pick a present that she'll actually like—but not this year. Because instead of flowers or a random piece of home decor, I'm sending my mother the gift of sleep. 
Of course, you can't put wrapping paper and a bow on a good night's rest. But you can put it on mbg's sleep support+, a natural sleep aid that promotes deeper, more restorative slumber.*
The best way to think of mbg's sleep support supplement is like a three-prong approach to maximizing your zzz's. First this hormone-free formula helps you fall asleep by encouraging your muscles to relax and modulating your stress response so you can let the tension of the day slip away—and then it helps you stay there, as it continues to support a state of total relaxation.* When you do finally wake up, there isn't any drowsiness because the formula supports your natural sleep cycle.* Hear that, melatonin? 
A bestseller used by well-being and nutrition experts alike, sleep support+ relies on three science-backed ingredients. The base is 120 milligrams of magnesium bisglycinate, a highly absorbable (and gentle) form of the mineral that promotes relaxation and restorative sleep.* It's layered with jujube seed extract—a fruit used in traditional Chinese medicine for thousands of years to promote rest—and PharmaGABA®—an amino acid neurotransmitter clinically shown to enhance sleep quality.*
Why I picked sleep support+ for my mom.
I'm sure I've given my mom more than her fair share of sleepless nights, so I loved the idea of giving back some of those hours. Plus, there's plenty to love about the sleep support+ formula. It's GMO-free and crafted without unnecessary fillers, artificial colors, or sweeteners. It doesn't get you hooked (in a cyclical, bad way), like many other sleep aids and only requires two capsules about an hour before bedtime to make an impact.*
While I'm initially sending her a 30-day supply, I wouldn't be surprised if she opts to switch to a monthly subscription. After all, this supplement is one of mbg's most in-demand formulas.
If you are pregnant, breastfeeding, or taking medications, consult with your doctor before starting a supplement routine. It is always optimal to consult with a health care provider when considering what supplements are right for you.
https://www.mindbodygreen.com/articles/sleep-support-plus-mothers-day-gift