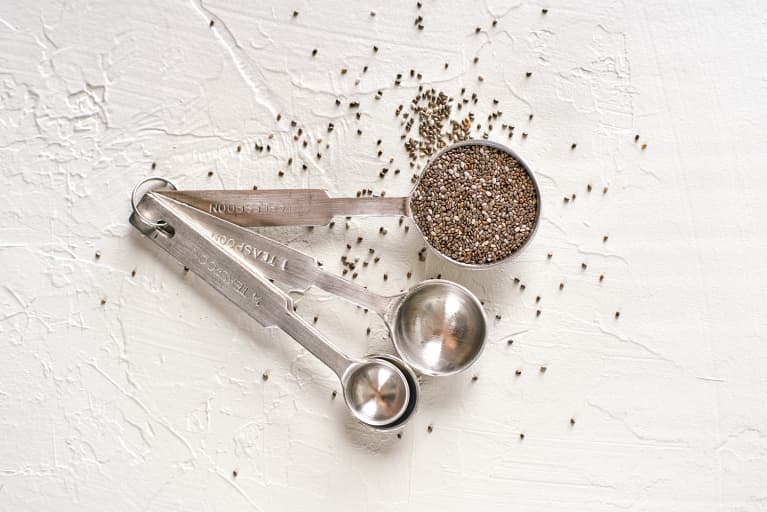 Our editors have independently chosen the products listed on this page. If you purchase something mentioned in this article, we may earn a small commission.
Breakfast is undeniably my favorite meal of the day, but there's something about the summertime that leaves me uninterested in nearly any of the dishes I usually whip up throughout the year. Maybe it's the pressing heat or just my general laziness, but it's not often I find myself wanting to cook breakfast this time of year.
Overnight oats are a great route for cooling and fueling the body first thing in the morning–not to mention they can reduce the time you're spending in the kitchen. But if you're looking for a particularly nutritious, energizing breakfast that also has hydrating properties, chia pudding is the way to go. 
This recipe from Clean Program's Instagram is loaded with healthy and nourishing ingredients like chia seeds and matcha powder for a serving of omega-3 fatty acids and natural antioxidants.
However, if you're looking to double down on the green, mbg's organic veggies+ powder is an excellent way to infuse your breakfast with even more nutrients. The blend contains 31 powerhouse ingredients, including organic fruits and vegetables, as well as pro- and prebiotic fiber to offer your body an array of benefits. The supplement aids nutrient absorption, promotes a healthy gut microbiome, and helps maintain healthy blood sugar levels, just to name a few perks.*
Once you've added your superfood powder, you can top your chia pudding with nuts to get some extra healthy fats into your diet, or sprinkle on a handful of berries to enhance the antioxidant content of your meal.
This recipe takes hardly any prep time, and it's packed with a sweet and zesty flavor, so you'll have a no-cook breakfast that will cool you off on those hot summer days in no time.
½ cup coconut milk (canned coconut milk)⁠
½ cup water ⁠
2 teaspoons of matcha powder
1 tablespoon maple syrup (use stevia or monk fruit if cleansing)⁠
¼ cup chia seeds⁠
1 tablespoon lemon zest⁠
½ vanilla bean (or 1 tsp. vanilla extract)⁠
For a boost: 1 tablespoon mbg organic veggies+
Dissolve the matcha powder in a warm ½ cup of water. ⁠
Mix all the ingredients. ⁠
Divide mixture and pour into small Mason jar containers. ⁠
Place in fridge and allow to sit for at least 3 hours or overnight.⁠
⁠Note: Top with coconut flakes, cacao nibs, or fruit, and enjoy!
If you are pregnant, breastfeeding, or taking medications, consult with your doctor before starting a supplement routine. It is always optimal to consult with a health care provider when considering what supplements are right for you.
https://www.mindbodygreen.com/articles/matcha-chia-pudding-with-organic-veggies