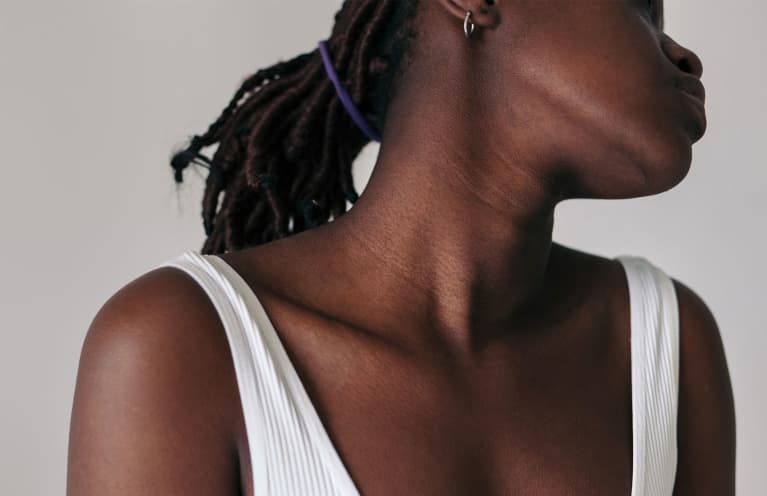 January 6, 2022 — 14:02 PM
Your neck and chest are likely not top of mind in the dead of winter: They're all bundled up under cozy sweaters and soft scarfs, after all. But in no time, it will feel like we're peeling off the layers thankful for warmer temperatures and fewer coverups. And when that time comes, you'll be thankful you spent a few extra moments caring for this delicate skin. We're all about the long game here, OK?
The neck and chest are some of the most telling areas on the body, as the skin tends to be thinner, experiences significant movement, and is exposed to the elements for at least some part of the year. This is why as people mature, they often notice that the texture appears thinner. The pop-culture name for this is crepey skin, as it resembles something similar to crepe paper. 
The good news is that caring for it is much easier (and less expensive!) than you might think.
Why the skin on the neck and chest thins and what to do about it. 
That thin, tissue-like quality appears wrinkled, fragile, and fine; "It may also sag or feel loose," says board-certified dermatologist Hadley King, M.D. This thinning happens naturally with age and as a result of environmental aggressors (you know the culprits: inflammation, UV exposure, pollution, and the like). And we typically notice it on the neck and chest because the skin is so delicate here to begin with. 
Caring for it requires similar steps that you might elsewhere: Gently exfoliate, hydrate daily, encourage collagen production internally, use healthy aging actives, load up on antioxidants, and protect it from UV exposure. But you'll also want to focus on dermal density and epidermal framework as this will help with the quality of the skin and address the thinning. 
If this sounds like a tall order, rest assured that the key is to find easy ways to encourage skin care steps in the area—such as making sure you apply enough product to cover the extra square footage morning and night. But if you're not interested in using your face tonics and tinctures below the neck (some of those little bottles cost top dollar!), I always recommend reaching for a trusted hand cream. 
Take mindbodygreen's postbiotic hand cream. The base is a hydrating blend of shea butter, olive-derived squalane, organic aloe vera, oat oil, and moringa seed oil, which will coat the skin in a blanket of moisture. The result? Soft, supple skin. But it doesn't stop there. It also uses high-quality antioxidants such as stable coenzyme Q10 and a fruit complex, both of which will help fight free radicals, soothe irritation, tend to fine lines, and ease the appearance of dark spots. 
Finally, the star of the show is the pre- and postbiotic combo. Prebiotics (think of them like food for the healthy bacteria on the skin) can help deal with inflammation that's so often triggered by skin microbiome imbalances. Postbiotics, like our high-tech option, not only support the biome—but have been shown to improve the dermal density and epidermal framework of the skin. When this happens, you'll see an impressive improvement in the quality of your skin, reduced fine lines, and even things like reduced skin sensitivities. 
Plus, you can feel comfortable applying it daily throughout the day: I always give my neck and chest some attention when I apply my hand cream midday or after washing my hands. 
https://www.mindbodygreen.com/articles/how-this-hand-cream-can-help-with-crepey-skin-on-neck