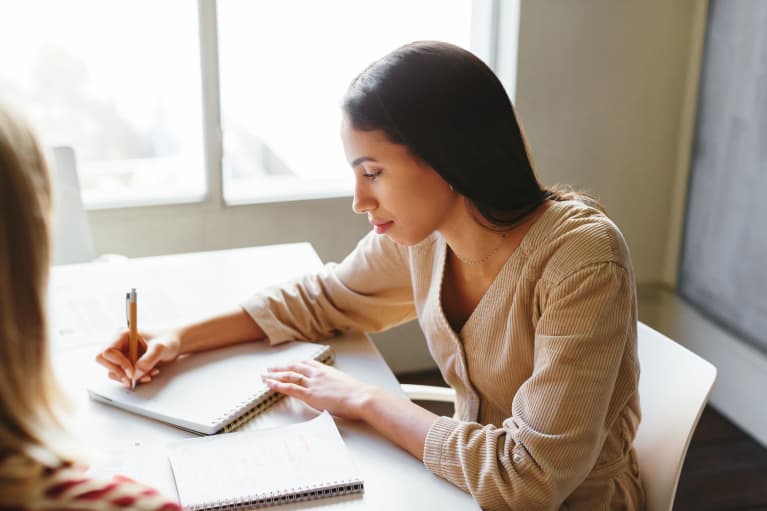 If you're eager to deepen your knowledge in nutrition science, further your health education, or simply apply nutrition expertise in your own life—the idea of training as a nutrition coach may be a great fit. Nutrition coaches are skillful wellness experts leading the way toward a more proactive, healthier future. With a person-first, comprehensive, and science-based approach to optimal health, these influential agents of change continue to create a ripple effect of positive transformation and well-being in society.
But if you are wondering what nutrition coaches do exactly, where they work, or whether or not nutrition coaching is the right professional route for you—keep on reading. 
What is a nutrition coach, and what do they do?
"First and foremost, coaches are here to facilitate the optimization of a current condition, vision, or goal," says Tania Marchand, a mindbodygreen functional nutrition coach, life coach, and entrepreneur. "Not to 'repair' something that might be broken or diseased but to prevent, maintain, and hold someone accountable to their best standard." Nutrition coaches consider each client on an individual level and assess the internal and external factors that might contribute to or hinder their optimal health.
Their education on topics like autoimmune disease, food sensitivities, longevity, and inflammation enables nutrition coaches to serve others (and themselves) holistically, establishing lifestyle and dietary practices that foster sustained health.
Functional nutrition coaches, specifically, take an integrated, broad-reaching view on wellness, which involves being "a fervent believer in healing yourself through food as medicine and doing the best you can to maintain and reach optimal health in every possible way," shares Marchand. "We are knowledgeable about food, the different ways of eating, healthy cooking techniques to preserve nutrition, as well as how to make sustainable food choices. However, we also know about gut health, brain health, heart health, hormone health, elimination diets, etc."
How does a nutrition coach compare to a registered dietitian or nutritionist?
While there is no universal definition for the scope of nutrition coaching, the term often refers to nutrition professionals and experts who have completed an applicable certification or training. Like health coaches, nutrition coaches have a plethora of academic and private sector training opportunities to choose from to obtain their nutrition coaching certification and advance their expertise.
Registered dietitians nutritionists, or RDNs, on the other hand, are board-certified, credentialed individuals who, besides providing nutrition counseling, are qualified to diagnose and work within the range of dietetics and treatment-based nutrition plans. "To be called a dietitian, you need to do specific courses and acquire a particular degree," tells Marchand. "They follow specific protocols and guidelines to make sure everything you eat will satisfy what suits you specifically regarding those same protocols and requirements, to make sure you have all the vitamins, minerals, protein, etc., included in your diet."
Besides scholarship and education requirements, another key differentiator between nutrition coaches and RDNs is their overall approach to wellness, with the former often leaning more toward the lifestyle versus the medical end of the health care spectrum.
Is there a difference between a health coach and a nutrition coach?
Nutrition coaches and health coaches share one mutual goal: educating and helping others lead better, healthier lives. They both seek to engage with individuals dynamically, to maximize their well-being and create sustainable life-transforming, behavioral shifts. Nutrition coaches, however, tend to place a greater emphasis on food and nutrition science as the powerful thread weaving together every other aspect of a person's health.
How to become a nutrition coach.
Finding a nutrition coaching program that suits your needs is well worth your time, research, and health-centric enthusiasm. Coaching certification curricula can vary in length, cost, content, and completion requirements, among other things. Here are a few pivotal elements to seek out in a solid nutrition coaching program:
Science-backed, cutting-edge education on nutrition, physiology, hormone health, inflammation, whole-person wellness, gut health, autoimmune disease, etc.
Nutrition coaching scope and practice in the context of telehealth.
Applied coaching theory, methodology, and behavioral facilitation.
A person-centered approach to optimal function, health, and well-being.
Where do nutrition coaches work?
Now more than ever, nutrition coaching is a fertile ground for professional and personal enrichment possibilities to bloom. Trained nutrition specialists might opt to work alongside health-minded institutions, alternative health clinics, medical doctors, or educational organizations. 
The potential and scope of this work are pretty far-reaching. "You can work for a clinic or any medical professional in assisting their patient to follow protocols regarding their condition; to provide accountability and keep track with their health goals," says Marchand. "You could also work for schools, wellness centers, food stores, gyms, corporations, insurance companies, restaurants, yoga studios, community centers, and supplement companies. You can have your private practice, too!"
How to find a nutrition coach to work with.
It probably comes as no surprise that one of the most convenient places to find ongoing, thoroughly tailored, and well-informed nutrition coaches is online. Although immense, the virtual sphere of health and nutrition coaches gives you access to a myriad of wellness professionals and organizations that focus on your health history and thoroughly help address your personal needs and goals.
As mentioned before, taking the time to research, compare, and examine several coaching options should be nonnegotiable in anyone's nutrition exploratory journey. Many coaches offer informative webinars or introductory calls to assess if they are a good fit for you or not—so take advantage! You can also seek recommendations in your local community or favorite health publications.
The path to becoming an accomplished nutrition coach involves a never-ending desire to learn, grow, and help others thrive along the way. Whether you're drawn to becoming a nutrition coach or merely curious about this powerful field, embarking upon this journey can be a life-fulfilling experience for both yourself and those around you. To learn more about this unique field, check out the vital skills you'll glean as a mindbodygreen functional nutrition coach.
https://www.mindbodygreen.com/articles/what-is-a-nutrition-coach