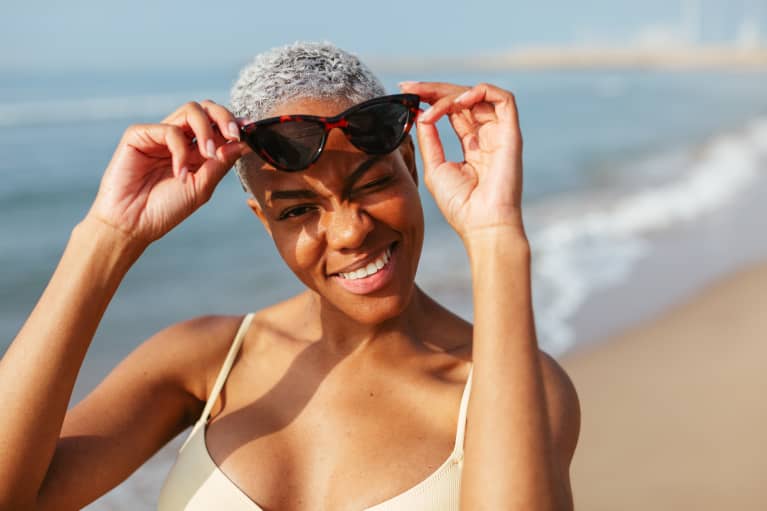 Our editors have independently chosen the products listed on this page. If you purchase something mentioned in this article, we may earn a small commission.
September 23, 2021 — 11:07 AM
I'm going to go ahead and guess that, as a responsible and conscientious human in the world, you probably already try to travel as sustainably as you can. Chances are, you always bring a water bottle with you so you don't have to buy plastic, never throw trash away on hiking trails around the world, and tend to look for eco-friendly hotels and restaurants when you're on the road. 
And that's all great! But there's another way to think about travel that may help you take your global mindfulness to the next level: regenerative travel. Unlike sustainable travel, which encourages globe-trotters to leave no trace behind, regenerative travel encourages you to take that mindset one step further and leave a place even better than it was when you arrived.
The term originally emerged from the world of regenerative agriculture, which is a growing movement among farmers to try to actually reverse the impact of climate change instead of only curbing its effects. Now that it's made its way into the travel world, it's morphed into a commitment to try to reverse the negative effect that overtourism has had on many destinations around the globe.
And as we're all starting to rethink the way we travel in light of the pandemic—especially in regards to the impact we have on the places we visit—there is no better time to adopt this travel mantra in your own life. Here's everything you need to know to make it happen.
First things first: Regenerative travel is not a replacement for sustainable travel — it's simply an added layer on top. 
It's no secret that the pandemic shifted our global mindset and reminded us how connected we all are—especially when it comes to travel. According to Booking.com's 2021 Sustainable Travel Report, nearly two-thirds of travelers say that the pandemic has influenced them to want to travel more sustainably in the future, and almost half state that the pandemic shifted their attitude to make positive changes in their everyday lives. 
Regenerative travel is about building on this growing interest in sustainable travel. "Regenerative travel refers to tourism that not only 'does no harm' but also protects and enhances the conditions and systems at the destination while benefiting both residents and travelers," explains Gregory Miller, Ph.D., the executive director of the Center for Responsible Travel, an organization that hopes to minimize tourism's negative impact on the environment and maximize its potential to be a force of good.
In other words, regeneration in all forms, whether in agriculture or tourism, is about raising the stakes and saying: Sustainability is not enough anymore. We need to go one step further and actively work to enhance the status quo.
Tips for regenerative travel:
1.
Visit a country that has volunteer opportunities in place for tourists.
Certain destinations are now establishing programs that make it easy for visitors to connect with local organizations that could use their support.
Hawai'i, for example, launched a campaign in June called "Malama Hawai'i" as part of their COVID-19 recovery plan. The goal of the campaign is to invite travelers to experience the islands on a deeper level through cultural immersions and opportunities to give back to the land.
On their tourism website, they offer all sorts of regenerative activities travelers can partake in on each island, from harvesting taro plants at Kualoa Ranch on O'ahu, to participating in a beach cleanup day with the Surfrider Foundation on Kaua'i. Many hotels in Hawai'i are also inherently regenerative simply because Hawaiians have historically been focused on taking care of their land and its people for thousands of years—and those who live there believe it is their kuleana (responsibility) to continue to do so. The Cliffs at Princeville on the North Shore of Kaua'i, for instance, not only operates on a solar energy system that generates more than half of the resort's electricity—and has earned the hotel many awards for green tourism—but also encourages guests to learn more about Hawaiian culture through programs like lei making and farm tours with local operators. 
The tourism board in Costa Rica has also made it easier for travelers to visit the country with a regenerative mindset through a tool called the Certification for Sustainable Tourism (CST) that provides guidelines for tourism businesses to have a positive impact on Costa Rican society—and then awards them with a CST certification if they meet them. Though the program was established way back in 1997, it got a slow start and has really only taken off recently, with more than 400 hotels and tour operators earning the certification in 2019. To book one, take a look at all of the regenerative options here. (It also must be noted that while the certification has sustainability in the title, the tourism board was seemingly ahead of its time, as the guidelines are truly all about leaving Costa Rica better than you found it.) 
2.
Look for an Impact Tourism program.
Another option: Choose a destination with an Impact Tourism program, which is a partnership between communities and businesses, travelers, and organizations. Programs include a range of options, from cleaning up the beaches in Cape Cod to tending to local farms in Peru. "These programs meet the genuine needs of the community, as expressed by the community," explains Miller.
3.
Stay in hotels that are championing regeneration.
Aside from choosing an entire destination that has put regenerative travel front and center, you can also book specific hotels that support the movement. Regenerative Travel, for example, is a booking agency that connects travelers with independent regenerative-focused hotels that are rooted in community and, according to their website, "actively advance local efforts that enable people, nature, and culture to thrive."
The agency is currently affiliated with 45 properties around the world—which they refer to as their Regenerative Resorts—everywhere from South Africa to Nicaragua to Nepal. "All of our Regenerative Resorts are vetted for their commitment and ongoing dedication to creating environmental and social impact," says Regenerative Travel co-founder Amanda Ho. "We believe that collectively as an industry and as humanity, we must repair and replenish our relationships with the places we travel." 
4.
Explore your destination with a regenerative tour operator.
Certain tour operators are also leaning into the regenerative movement. Intrepid Travel, a small-group tour company that became a Certified B corporation in 2018—meaning they are dedicated to benefiting both the community and their shareholders—launched four new trips in 2020 that help travelers support the local community in some way.
On a five-day tour of Turkey, for example, you can take part in a traditional meze cooking class one day and learn about sea turtle conservation efforts and rehabilitation the next. Another five-day Intrepid trip that just launched in August will take travelers to Croatia, where several of the included activities are in collaboration with MEET, a program developed by the nonprofit International Union of Conservation of Nature (IUCN), which helps local providers in national parks throughout the Mediterranean develop low-carbon-footprint and ecotourism products. 
5.
Commit to learning about the places you visit.
Perhaps the most important way to travel with your regenerative hat on is to adopt the mindset wherever you are—namely by doing your research. "To contribute to a regenerative system, travelers can support locally owned accommodations, tour operators, and restaurants, especially those actively working to enhance the community, environment, and spirit of the place," advises Miller.
Another tip from Ho: Before your trip, ask your hotel if they have a sustainability policy that guides their operations, if they have any initiatives that help to restore or protect the ecosystem, and how they support local organizations and communities. In the end, it's really about doing your part to engage with the local community instead of staying within the confines of a chain resort or cruise.
"It is your role as a traveler to understand the essence of a place, its history, and all that the destination embodies," summarizes Ho. "Regenerative travel is about moving away from the predictable and becoming more engaged in the local community and ecosystem." 
https://www.mindbodygreen.com/articles/how-to-embrace-regenerative-travel