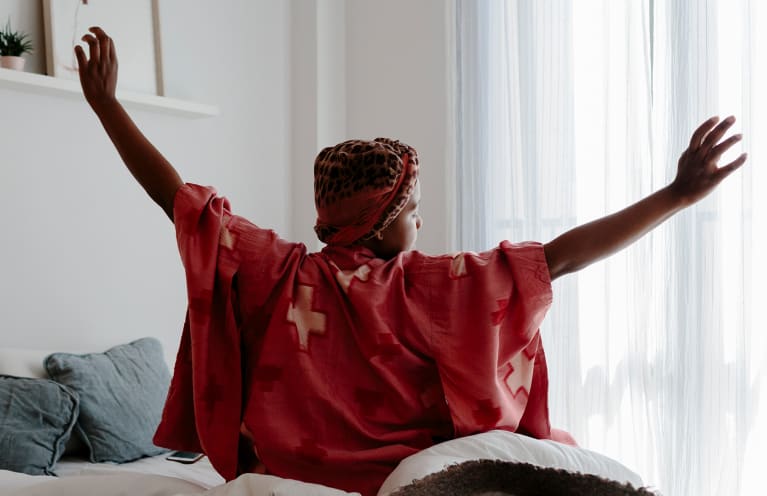 August 14, 2021 — 10:02 AM
I genuinely find my morning routine the most sacred, vital part of the day. As the foundation for my self-care practice, these daily rituals have long helped me prioritize my mental, spiritual, and physical health while setting me up for triumph as I navigate the day ahead. Still, it wasn't until I became a mindbodygreen functional nutrition coach that these daylight practices got remarkably more optimal for my overall well-being.  
At the heart of a functional nutrition-inspired lifestyle is recognizing that everyone is perfectly complex and unique. We are all vibrating ecosystems with different genetic, dietary, and biochemical factors influencing our daily experience of health. Therefore, the best morning ritual will always be the one that is thoughtfully tailored to meet our individual goals and needs.
The suggestions below are meant to inspire you to discover what truly works for you when establishing a morning well-being routine. Through the lens of functional nutrition, you will notice that self-awareness and consistency are vital for promoting long-lasting wellness. Here are a few things I do every day to make sure I'm instilling more radiance into my morning routine: 
Whether it is yoga, hiking, dancing, walking, or gently stretching, I ensure that my body moves every day. Besides leading me into a more productive workday, I find that movement is an empowering and enriching experience that does my heart, mind, and spirit good. 
According to functional medicine physician and mbg coaching instructor Frank Lipman, M.D., weaving micro-movements throughout the day is a great way to enhance and promote our health and protect against disease along the way.
A beautiful way to honor my emotions and needs first thing upon rising is through the practice of mindfulness and equanimity. Bringing genuine presence to my day allows me to notice how my inner and outer environments feel moment-by-moment. It helps me foster a clearer awareness of the endless actions of my mind, while decreasing brain overload along the way. 
3.
Hydration, hydration, hydration!
As the epitome of agua es vida (water is life in Spanish), hydration is always part of my healthy morning habits. While each person's hydration needs differ, based on a number of factors, ensuring proper fluid intake is key to helping our physiologies thrive each day. 
And the best part is that it's not limited at tap water! For example, one of my favorite go-to recipes I learned in mbg's functional nutrition coaching program is a water-based green smoothie from integrative medicine physician and anti-aging specialist Taz Bhatia, M.D. Beyond its versatility and convenience, this green smoothie has become a staple in my morning ritual and one that I look forward to each day.
Last, but never least, is food. Delicious, fresh, and unprocessed foods that nourish my body are the cornerstone of my daily morning practice. As a functional nutrition coach, I perceive and embrace food as a magnificent, therapeutic tool of transformation that encourages me to bring forth my best self each morning. 
A part of the 7-point functional medicine approach to health, food can have the power to help with nutrient deficiencies, improve function, and restore balance, among other benefits. Here are some of my favorite anti-inflammatory recipes, that I'm currently keeping on repeat most mañanas: organic veggies + buckwheat breakfast bowl, beet pancakes, sangría smoothie, and a simple but delicious tomato and thyme egg recipe. Enjoy!
https://www.mindbodygreen.com/articles/healthy-morning-habits-functional-nutrition-coach