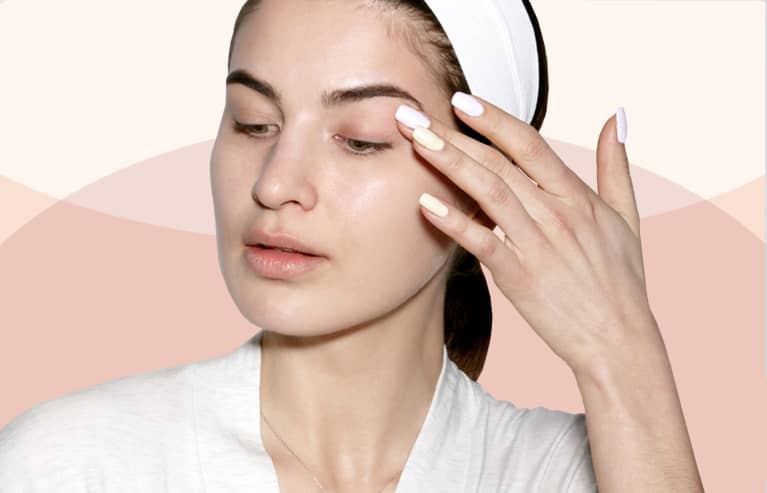 Our editors have independently chosen the products listed on this page. If you purchase something mentioned in this article, we may earn a small commission.
August 14, 2021 — 11:09 AM
Listen, to lift and firm the face, topicals can only get you so far. Sure, you can cheat a toned, spry appearance with makeup, but to really encourage lift, you'll want to stimulate blood flow and collagen production internally—which ultimately takes more than slipping on a serum. 
So whenever someone touts a facial massage practice (the easiest way to promote circulation, in our humble opinion), we take note. "This is a great way to firm up your appearance," says beauty influencer Ava Lee—founder of the popular blog, TikTok, and YouTube channel Glow With Ava—in a recent TikTok. Here, she offers a quick trick to add to your morning massage—trust, it's worth adding to your regimen. 
A facial massage technique for a lifted appearance. 
Facial massage routines run the gamut: Some are touted for easing jaw tension; others are lauded for deflating under-eye puffiness. This one, demonstrated by Lee, is meant solely for lift: 
First make sure you have some slip: a serum, oil, or even a cleansing balm. Pai's Rosehip Cleansing Oil is a personal favorite—it will leave your skin glowing post-massage. 
Next, place your hand horizontally on one side of your face. (Lee's four fingertips reach the side of her nose.) Place the other hand vertically on your jawline, with your four fingertips starting at the corner of your mouth. 
"Push out; push up," says Lee. Meaning: Gently glide your horizontal hand to the side towards your ear, and push the vertical hand up towards your temple. Feel free to use medium-to-firm pressure, but don't knead too hard into your skin. 
Repeat the motion 10 times before switching to the other side of your face. As always, apply more serum or oil if your skin becomes tacky. 
The million dollar question: How does this technique lift the face? Well, as we mentioned, floating your hands upward can stimulate blood flow, which delivers oxygen and nutrients to the cells—which, in turn, can help promote collagen synthesis (aka, what helps your skin stay firm and taut). It also helps firm the facial tissue by stimulating muscles: In one study, patients even claimed feeling tighter, more supple skin after regular massages. 
The upward motion in particular can encourage more circulation in the tissue, which is great for reducing morning puffiness (as opposed to using downward strokes, which many find is fit for decreasing tension and calming the skin). 
At the end of the day, you can simply do whatever motion feels good. Use your facial massage as a time to connect with yourself and your skin, but if you are specifically looking for lift—this easy technique works like a charm.
https://www.mindbodygreen.com/articles/quick-facial-massage-technique-for-lifted-appearance