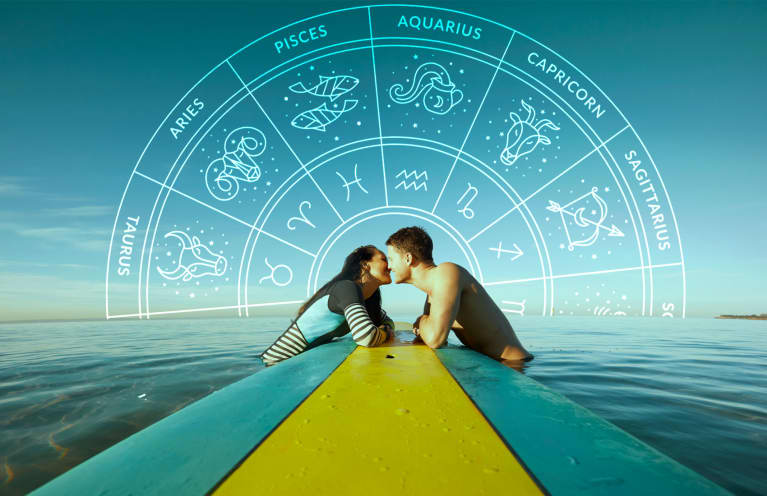 September 18, 2021 — 14:04 PM
What the world needs now is love, sweet love! This week, the AstroTwins' horoscope calls on us to surrender to a soulful, spiritual groove.
As the annual full moon in Pisces shimmers overhead this Monday, September 20, buried dreams rise to the surface.
Examine them, interact with them—then start discussing what needs to be brought into dialogue. Remember that Pisces is the poet of the zodiac. Rather than issuing grand declarations, woo your "audience" with flowery stanzas and extended metaphors. Where you've been stubbornly resisting your destiny, let down your walls and loosen up your boundaries. A willingness to be open—and to just try new experiences—could bring major life shifts.
The downside of these moonbeams is that they can make one a little too idealistic (and in some cases, straight-up delusional). Rock the rose-colored glasses on Monday; just try not to filter out glaring red flags. Nothing is ever "perfect." Look at the full picture instead of selective scenes. 
The equinox arrives on Wednesday as the Sun shimmies into rosy, romantic Libra until October 23.
Collaborate, cooperate, co-create! During this annual cycle, dynamic duos accelerate in promising ways. Take time with the "auditioning" process so you can radar in on the right dance partner. Libra is the sign of the scales, and your perfect pairing may come from the "complementary force" category instead of the "kindred spirit" cache.
Is it time to make a peace offering? Libra's harmonious vibes inspire you to smooth over any rough patches in your most important relationships. It's never too late to at least try to make amends—and the gracious diplomacy of Libra season will make others more amenable to accepting apologies.
Strong emotions might erupt like molten lava under Thursday's explosive and unpredictable face-off of Venus and Uranus.
Try not to interact with someone who's behaving like a ticking time bomb. You'll just wind up in the crosshairs of their emotional meltdown. With Venus in private, internal Scorpio, their "processing" (and yours) is more of an inside job than anything that's ready to be talked through in a calm, mature manner.
Feeling the urge for more freedom? You don't have to throw out the baby with the bathwater. It's totally possible to create more space in a relationship without calling the whole thing off. That said, don't do the very thing that will trigger someone's abandonment issues. Provoking jealousy is like playing with fire today. Sure, you'll find out how much people care—but you could also stir up painful emotions. Avoid trauma-bonding and simply say, "I'm going to go do X now, and I'll be back by this time." Be clear and keep your word.
On Saturday, driven Mars in Libra gets in a flowing formation (a trine) with structured, sensible Saturn in Aquarius.
You may hear the call of humanitarian duty, so ask not what your people can do for you. Everywhere you look, you'll see ways to contribute to your community or any collectives that you're a part of. Team-building and bonding exercises may be necessary to unify your crew. If no one's organizing those, step up to the plate. Both planets are in justice-oriented signs making inequities stand out like the glaring errors that they are. Mars brings the courage to speak up while Saturn helps you craft your message so that its impact is felt. Come together with all honored and respected!
https://www.mindbodygreen.com/articles/weekly-horoscope-for-september-20-26-2021-from-the-astrotwins