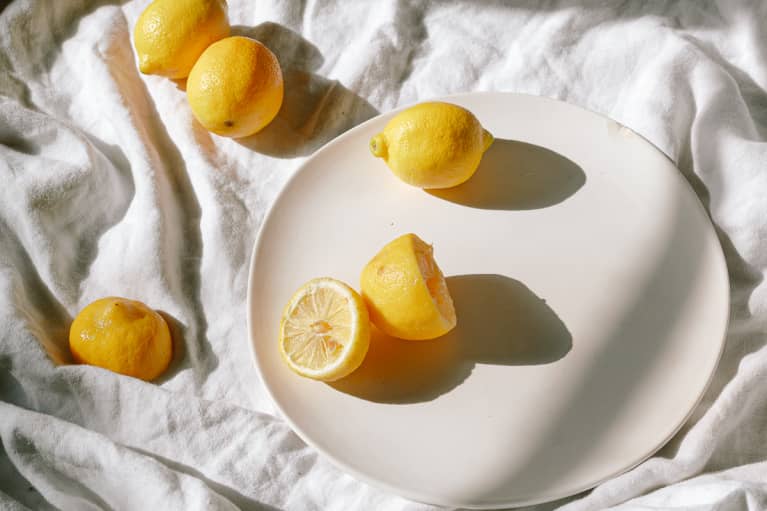 Our editors have independently chosen the products listed on this page. If you purchase something mentioned in this article, we may earn a small commission.
During the warm, sunny days of spring and summer, many of us buy lemons to brew refreshing homemade lemonade and brighten salads with yellow zest. But after you've used the cheery fruit to give beverages and food a citrusy boost, don't toss those precious peels or leftover lemon halves!
Instead, repurpose them to naturally clean your home. The acidic, antibacterial qualities of this multi use fruit can lift stains and odors, making lemons ideal for cleaning and brightening surfaces, appliances, furniture, and even linens.
These three creative uses will help you save money on store-bought cleaners and forgo food waste by pulling as much cleansing potential out of your lemons as possible:
1.
Lemon-infused vinegar all-purpose cleaner
Even with just residual rinds, you can craft batches of lemon-infused vinegar to include in a vinegar-based all-purpose cleaner. It takes some time to make, but the result will be well worth it. Vinegar is an effective cleaner that's great at clearing grease and grime and eliminating odors—and the lemon will give some extra oomph.
For the lemon-infused vinegar:
1½ to 2 cups of lemon peels
3 to 4 cups white vinegar
Funnel or strainer
Fill a quart jar with 1½ to 2 cups of chopped lemon peels, until about ¾ full. Then pour 3 to 4 cups white vinegar over top, covering the lemon by at least a couple of inches.
Cover with a nonreactive lid, or place a piece of wax paper between the jar and lid if you're using a standard metal covering. Store in a cool, dark place for about a month. Check the infusion every so often, and add more vinegar if needed.
After about a month, decant the vinegar by pouring it through a muslin-lined funnel into a clean vessel. You'll then be ready to turn your lemon-infused vinegar into a powerful all-purpose cleaner!
For the all-purpose cleaner:
1 cup lemon-infused vinegar (instructions above)
1 cup hot water
1 tablespoon borax
2 teaspoons baking soda
Combine all ingredients in a spray bottle and shake until minerals dissolve. Also shake before spraying, and then use this perfect spring-cleaning companion to leave surfaces spotless.  
2.
Leftover lemon scrubber
In a pinch, you don't need an infused-vinegar spray to benefit from lemon's scouring power; just use the cut side of a halved lemon to coat your surfaces or appliances in lemon juice, let soak for a few minutes, and then rinse. With this method, you can make your countertops, sink, cutting boards, and faucet shine in no time.
You can also supercharge the effects of lemon with a little salt using the following ideas:
Soak smelly utensils or serving tools in a mixture of salt and lemon juice. Rinse after 10 to 20 minutes and marvel at this duo's ability to bust the lingering scent of onions and garlic.  
Slice a lemon in half and dip it in salt before scrubbing tarnished brass, copper, or stainless-steel pots and pans. (For aluminum, leave out the salt and buff with a soft cloth after rinsing.)
Sprinkle salt and lemon juice over fabric stains. Rub the stained area together for light abrasion, and dry the fabric in sunlight to restore it to a bright, unblemished state.
Scent-sational lemon steam
Now that you've scrubbed down all your surfaces, finish your spring cleaning with a flourish by trying this air-freshening technique:
Combine cut lemon and/or leftover lemon peels with water in a pot and place it on the stove over low heat—just enough to release steam.
You can also add other herbs and spices to customize the scent released by the steam.
Keep an eye on the water and either refill or turn off the heat after it's evaporated.
By the time the water has dispersed, your home will be filled with the fresh scent of lemon.
Use these three recipes throughout the season to keep your home looking and smelling fresh. Finish up by running any leftover lemon rinds through your garbage disposal to get one final freshening feature out of the lovely, versatile citrus.
https://www.mindbodygreen.com/articles/leftover-lemons-in-cleaning