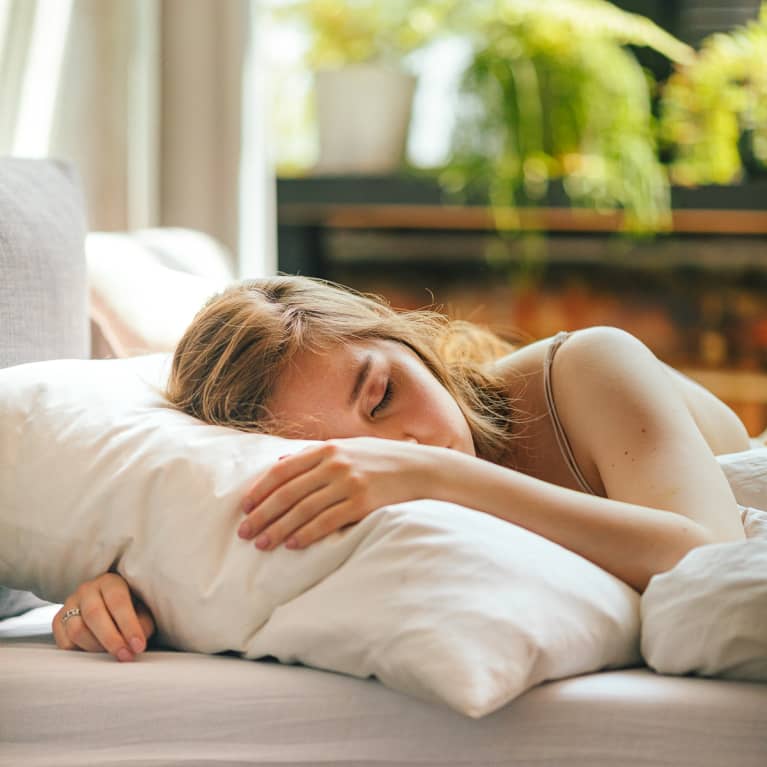 It's no secret that sleep plays a huge role in our overall health, but when it comes to maintaining a healthy weight, how much sleep do we actually need? In a new study currently being presented at the European Congress on Obesity, researchers just got closer to the answer.
Studying sleep duration and weight maintenance.
For this study, just under 200 adults with obesity were instructed to follow a strict diet for eight weeks. The participants lost, on average, 12% of their body weight.
From there, the team wanted to know how different factors would affect the maintenance of that weight loss over the course of a year. The participants' sleep habits and sleep quality were also measured.
Based on the findings of this study, it would appear getting enough quality sleep can be a big help when it comes to maintaining weight loss—and further, exercise also improves sleep.
Not only did sleep duration and sleep quality increase in all the participants after their initial eight-week diet plan, but the individuals who exercised throughout the study were able to sustain that improved sleep—while those who didn't exercise were not.
Additionally, those sleeping less than six hours a night, on average, and those who reported poor sleep quality, saw an increase in their BMI over the course of the year.
As medical student and co-author of the study Adrian Bogh explains in a news release, "It was surprising to see how losing weight in adults improved sleep duration and quality in such a short time, and how exercising while attempting to keep the weight off preserved improvements in sleep quality. Also, it was intriguing that adults who aren't sleeping enough or getting poor quality sleep after weight loss appear less successful at maintaining weight loss than those with sufficient sleep."
This news is one more reason to prioritize getting enough high-quality sleep (at least six hours, according to the study, but everyone is different). And on top of that, if you're having trouble sleeping, the research suggests adequate exercise can improve your sleep, which may in turn help with weight maintenance.
If you are pregnant, breastfeeding, or taking medications, consult with your doctor before starting a supplement routine. It is always optimal to consult with a health care provider when considering what supplements are right for you.
https://www.mindbodygreen.com/articles/how-much-sleep-do-you-really-need-to-maintain-healthy-weight