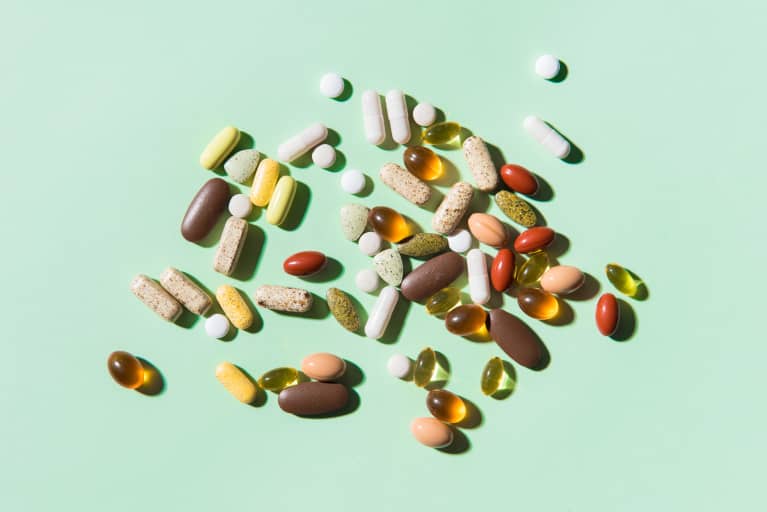 September 2, 2021 — 10:04 AM
Longevity expert Sergey Young has a personal mission to live to 200, which makes us oh-so-curious about his daily tips and tricks to live a longer life. We've already covered his diet and lifestyle shifts, so it's only fitting to ask: What about supplements? 
Lo and behold, Young does have his go-to favorites: Some you might recognize (he's a fan of vitamin D and probiotics, for example), but others are a little more—shall we say?—underrated. On the mindbodygreen podcast, he shares his most valuable players: 
"I'm a big fan of seaweed," says Young. Although, he refers to a variety of sea vegetables, not just the slimy green stuff on the shore—kelp, chlorella, and spirulina also fall under the "seaweed" bucket. These sea veggies are chock-full of minerals like iron, copper, manganese, folate, zinc, sodium, calcium, and magnesium; plus, they can help support bone health, detoxification, and thyroid function.*
As for Young's favorite type of seaweed? Well, he likes to switch things up: "I have six different kinds of seaweeds on rotation," he explains. But if you're hoping to grab all kinds of seaweed in one go, you can always opt for a powdered mix, as found in mindbodygreen's organic veggies+. Among its 31 (!) powerhouse ingredients, you'll find nutrient-packed, hard-to-find USDA-certified organic sea vegetables—like kelp, chlorella, and spirulina. 
While you may add garlic to most of your meals (the flavor is unmatched), Young loves to reap the health benefits from a targeted supplement, too. You see, in an Advances in Therapy study, 146 healthy adults took either a placebo pill or a garlic supplement for three months. The group taking the garlic supplement had enhanced their immune response by 63%. Plus, "garlic is super helpful for your heart system and your blood vessels," notes Young.*
Another reason to lean on garlic supplements? "They are now constructed with zero odor," says Young. No need to chomp on raw garlic and worry about sour breath. 
Young also sings the praises of milk thistle, specifically to help promote healthy cholesterol levels.* Its active ingredient, silymarin—a flavonoid with powerful antioxidant and anti-inflammatory properties—has been associated with a reduction in LDL levels.* Research also shows milk thistle can support liver function, a benefit many anecdotally claim can help with wretched hangover symptoms.* 
These supplement recommendations are a bit more obscure, but according to the longevity expert, they can help your health go the extra mile.* The only caveat to consider: "You need to trust your supplier," he says, which we agree is so important. Make sure the supplements you take are high-quality and backed by research (and if you were wondering: Ours are!). 
If you are pregnant, breastfeeding, or taking medications, consult with your doctor before starting a supplement routine. It is always optimal to consult with a health care provider when considering what supplements are right for you.
https://www.mindbodygreen.com/articles/longevity-experts-favorite-underrated-supplements