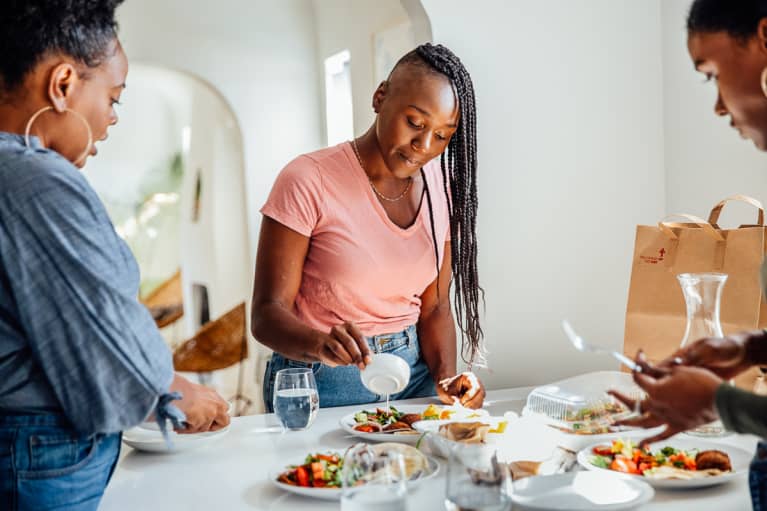 Our editors have independently chosen the products listed on this page. If you purchase something mentioned in this article, we may earn a small commission.
October 10, 2021 — 9:28 AM
As a nutritional psychiatrist, I deeply care about de-stigmatizing the topic of mental health and providing people with the resources they need for better mental well-being. In my experience, food and nutrition is often a helpful place to start the conversation and begin to address symptoms, as it can feel less daunting than other interventions.
Why I believe nutrition is powerful starting point.
For many people, the topic of food and cooking brings up positive associations—like a favorite dish or a happy memory from childhood. In these cases, understanding and utilizing the impact of nutritious foods on mental well-being can be a wonderful strategy.
(Note: It's important to acknowledge there can be tough memories with food, too—such as going hungry, coping with an eating disorder, or having physical discomfort around certain foods due to a medical condition—and nutrition interventions may not be the best mental health starting point for these individuals.)
What's more, food is not only a positive, approachable square one, it's also extremely crucial to our well-being. As we now understand, our metabolic health is linked to our mental health—and eating for better brain health also improves our overall health.
It's additionally important to highlight the role of insulin, a key hormone that influences many of these metabolic processes. Every time our cells need to process sugar, they require insulin. A good insulin response by the receptors is called insulin sensitivity. The better our insulin sensitivity is, the better our overall health. Insulin sensitivity is also a good marker of metabolic health, and therefore physical and mental health. 
How food can support mental well-being.
One of the quickest ways to improve insulin sensitivity, metabolic health, and mental health is by focusing on what's at the end of our fork. It really starts with whole, real, unprocessed food. I advise filling your plate with these high-priority picks:
Remember, metabolic health is a cornerstone of good overall health as well as mental health. As a nutritional psychiatrist and a chef, I have learned that for many people starting with food is a great first step towards a path to better health. My personal story about how food changed my life, my approach to food especially for mental health and recipes is found in my book This is Your Brain on Food.
https://www.mindbodygreen.com/articles/de-stigmatize-mental-health-through-nutrition