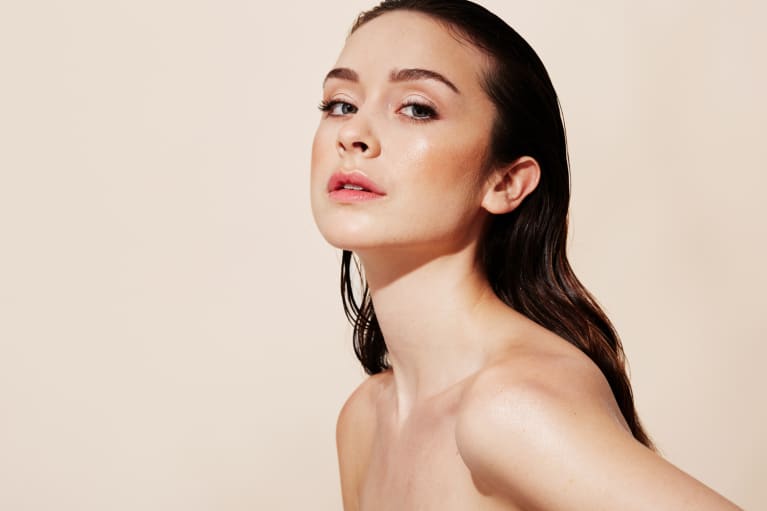 Our editors have independently chosen the products listed on this page. If you purchase something mentioned in this article, we may earn a small commission.
September 20, 2021 — 22:10 PM
For a style meant to emulate an effortless rinse-and-go, the wet hair look is arguably one of the most difficult to grasp. You need enough slick to achieve that high-gloss shine without teetering over into greasy territory; and you need enough flexibility to fashion tousled, grungy-slash-beachy strands with enough hold to eliminate frizz. 
Sounds like a tall order, so we enlisted the help of celebrity hairstylist Andrew Fitzsimons (the tress-master responsible for Megan Fox's ocean goddess waves at the VMA's) to walk us through each step. Ahead, find his expert guide for the sleek, cool-girl 'do. 
The wet hair look: A step-by-step guide. 
Any hair texture can nail this look, so long as your lengths at least kiss your ears. But according to Fitzsimons, the biggest challenge with this style is striking the perfect amount of gloss: "If you miss any parts of the hair, those bits will look extra dry and frizzy," he says, but if you overdo it, the strands can appear slime-like. 
Suffice it to say: It takes skill to look like you stepped right out of the shower. 
"Always style the hair before creating the wet look to establish the shape," says Fitzsimons. Whether you want a pin-straight, sleek look or tousled waves—the key is nailing down the style you want before making it "wet." Then when you add your oil, the product will lock in said style. 
Fitzsimons is partial to a curling wand (don't forget to coat the strands with heat protectant first!) to add body, but you can also air-dry your natural curls or opt for a heatless style if you've stowed the hot tools. 
The hero product for the wet hair look isn't water (because, you know, it dries), but a hair oil to glaze the strands. A dry oil is best for this venture, as it's able to absorb quickly into the hair without weighing it down (some popular options are avocado, rosehip seed, and squalane). "That will give the effect of sleek, shiny hair without the weight or stickiness that will leave a residue," says Fitzsimons. If you're looking for product recs, he swears by the Kristin Ess Scalp + Hair Milk Oil—or feel free to browse our favorite dry oils here. 
In sections, "apply hair oil generously to achieve the 'wet' look with ultimate hydration and high-gloss shine," says Fitzsimons. Don't be afraid to really glob it on—according to Fitzsimons, people often underestimate the amount of oil you need for that "drenched" effect. "You are going to need way more than you think!" 
And if you are using hot tools, you might need to recruit even more of the product: Heat zaps your hair of moisture, Fitzsimons reminds us, "so adding in oil will bring moisture and shine back to those locks." 
Finally, finish the style off with some hairspray (our favorites, here). You may think that coating your hair with an occlusive oil provides enough hold, but it actually needs that extra shield to last all day. "While adding the oil gives the illusion of wet hair because of the glass-like shine, making sure there's enough hold with hairspray or gel is the key," says Fitzsimons. That said, you can also add a touch of gel to the hairline to slick back baby hairs. 
With hairspray, just an allover spritz will do—a cloud of spray may result in crunchy locks. 
The wet hair look appears fresh out of the shower, but it actually takes some skill to get just right. No fear: With Fitzsimons' helpful guide, you can easily recreate the sleek, modern style at home.
https://www.mindbodygreen.com/articles/how-to-get-the-wet-hair-look