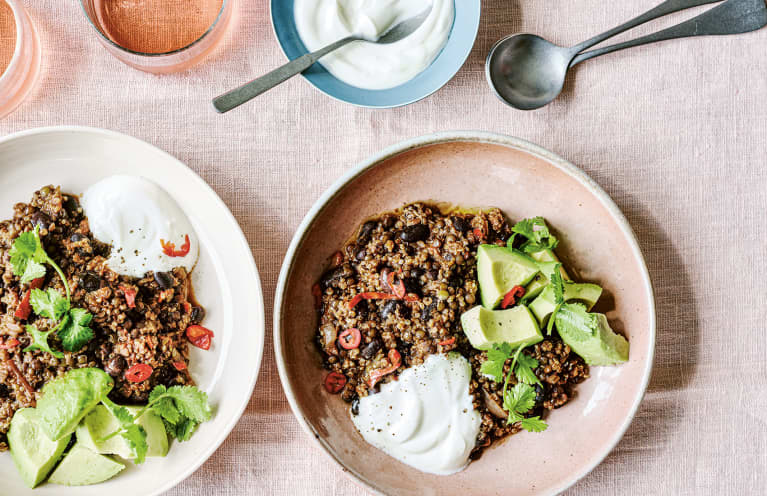 Our editors have independently chosen the products listed on this page. If you purchase something mentioned in this article, we may earn a small commission.
September 20, 2021 — 16:04 PM
Colder days mean more warming meals, and this one-pot chili recipe comes with some unexpectedly cozy spices. Ginger, cacao, and harissa make appearances alongside the more common cumin and chili powder. These bonus ingredients supercharge the chili's benefits—ginger, like chilies, can help ease inflammation.
This vegan chili is also full of fiber and plant-based protein, thanks to a mix of lentils, quinoa, and beans. While you could enjoy it on its own, the recipe works as a base for other meals, too—making it ideal for meal prep (bonus points: It's freezer-friendly). "This is such a versatile recipe," write Ruby Bell and Milly Bagot, the team behind ByRuby and the authors of Freeze, "great with a baked potato, whole-wheat pasta, or as it comes with some coconut yogurt and freshly chopped avocado. It also makes a great vegan taco and wrap filling."
Ruby's One-Pot Bean Chili
Oil
1 large onion, finely chopped
3 garlic cloves, crushed 
2-cm (¾-inch) piece of fresh root ginger, peeled and finely chopped 
2 red chilies, deseeded and finely sliced
½ teaspoon chili powder
2 teaspoons cumin seeds, crushed
2 tablespoons harissa 
½ tablespoon cacao powder
180 g (6¼ oz.) dried Puy lentils, well rinsed and drained
120 g (4¼ oz.) quinoa, well rinsed and drained 
400 g (14 oz.) canned chopped tomatoes 
800 ml (1½ pints) vegetable stock 
400 g (14 oz.) canned beans, such as black beans, drained and rinsed 
salt and pepper
15 g (½ oz.) fresh coriander sprigs, to garnish (optional) 
To serve (optional): coconut yogurt, freshly chopped avocado
Heat a large, heavy-based pan over medium heat. Add a glug of oil and then the onion, garlic, and ginger and cook for 5 minutes. 
Stir in the red chilies, chili powder, cumin seeds, harissa, and cacao powder, and cook for a further 5 minutes. 
Add the lentils and quinoa, then pour over the tomatoes and stock. Bring to a simmer and cook over low heat for about 20 minutes, until the lentils and quinoa are cooked through, stirring occasionally and adding a little water if needed.  
Stir in the beans and heat through for a few minutes.
Remove from the heat and season to taste, garnish with the coriander, if using, and serve with a dollop of coconut yogurt and some freshly chopped avocado, if you like.
Portion out the bean chili into appropriate containers. Leave to cool, then seal, label, and date before freezing.
Microwave on high for 3 minutes, then remove from the microwave and stir. Re-cover but don't seal and microwave for a further 5 minutes or until piping hot. Leave to stand for 3 minutes before serving. 
Preheat the oven to 350°F. Uncover the ovenproof container and then cover the top with foil. Place on a baking sheet in the center of the oven for 40 to 45 minutes or until piping hot. Leave to stand for 3 minutes before serving. 
https://www.mindbodygreen.com/articles/vegan-one-pot-bean-chili