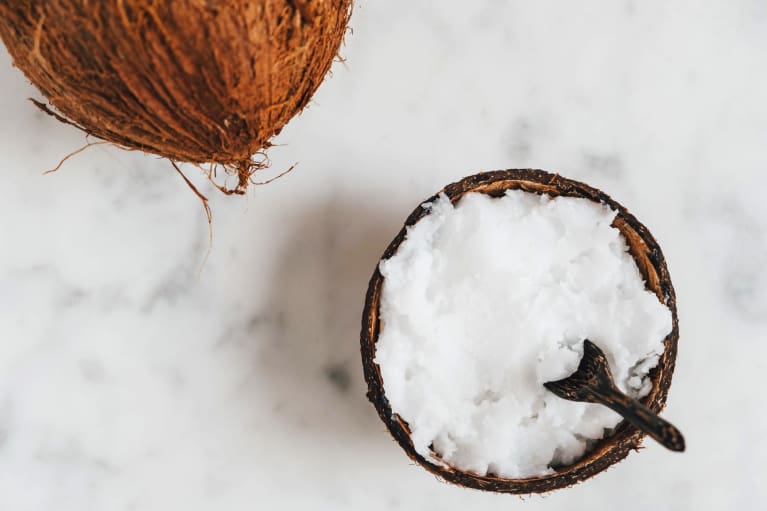 August 13, 2021 — 21:06 PM
If you follow a keto diet, chances are you're pretty familiar with MCT oil. But in case you need a refresher (for the non-keto eaters among us): MCT oil stands for medium-chain triglyceride oil, and it's typically extracted from coconut oil, kernel oil, and dairy fats—like grass-fed butter or ghee.
Although, MCT oil contains high amounts of saturated fat, which may have you wondering about its potential to raise cholesterol. A comprehensive review from The Journal of Nutrition puts the rumors to bed: According to the researchers, MCT oil does not affect total cholesterol, LDL cholesterol, or HDL cholesterol levels—but it does cause a slight increase in triglycerides.
How does MCT oil affect your cholesterol?
Plenty of research has assessed the effects of MCT oil, and the general consensus is this: MCT oil in your diet can help lower LDL (or the "bad") cholesterol, and it can also increase your HDL (or the "good") cholesterol. However, that relationship might not be so clear cut. When the new systematic review meta-analyzed seven randomized controlled trials, they found "weak evidence" that MCT could lower LDL cholesterol when compared to a control oil; additionally, they found MCT oil did not have a significant effect on the "good" cholesterol, either. 
And according to the review, the results mainly had to do with the fatty acid profile of the control oil. For example: Compared to a control oil with unsaturated fatty acids, MCT oil was found to increase LDL cholesterol; when compared to longer-chain saturated fatty acids, there is evidence (although minimal) that MCT oil could reduce LDL cholesterol. Translation? When it comes to your cholesterol levels, the evidence is a bit hairy—it may depend on which oils you're comparing the MCTs with. And individual responses can vary due to unique genetic makeups. 
"Our results indicate that MCT oil does not significantly affect total cholesterol, LDL cholesterol, or HDL cholesterol concentrations," the report reads. It may, however, cause a small increase in triglyceride concentrations, which is important to note. (For reference, experts recommend an ideal HDL-triglyceride ratio of 1:1 for optimal metabolic health.) 
Essentially, the paper provides a hierarchy of sorts: When it comes to optimizing cholesterol levels, unsaturated fatty acids are top-tier (olive oil, avocado oil, etc.). However, their findings suggest that medium-chain fatty acids (like MCT oil) are less harmful for cholesterol than longer-chain saturated fatty acids (like lauric acid, found in coconut oil). 
"Our findings support MCT oil as a likely healthier choice than coconut oil, which is also commonly consumed by people following a ketogenic diet," the report continues. At the end of the day, the differences are pretty minimal (we're talking tiny percentages, here), but the numbers may sway you into consuming pure, extracted MCT oil rather than relying on the MCTs in coconut oil.
Let's review: When it comes to MCT oil and cholesterol, the two may have less of a significant relationship than we once thought. While there is some evidence for reductions when compared to longer-chain saturated fatty acids, the study concludes that it has little significance on cholesterol as a whole.
https://www.mindbodygreen.com/articles/new-study-busts-myth-about-mct-oil-and-cholesterol