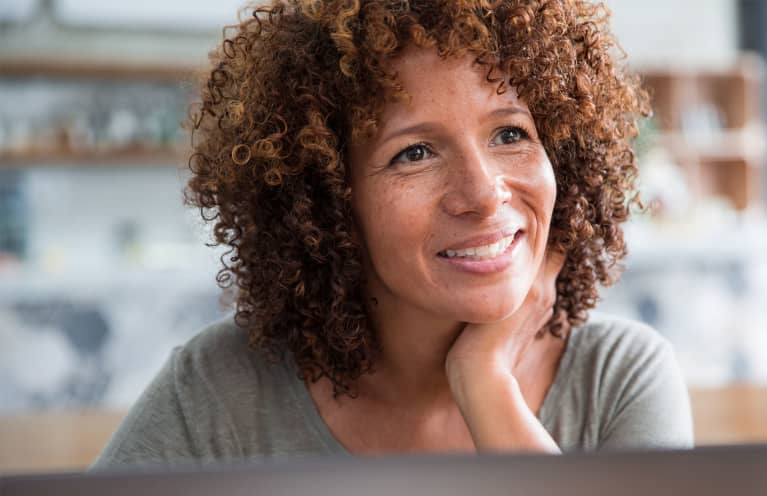 When mindbodygreen was first developing its line of vitamins and supplements, we knew we wanted to include a product that could tackle one of today's most common barriers to health and well-being: stress. After many iterations, we landed on calm+: a thoughtful blend of full-spectrum hemp oil with CBD, ashwagandha, and lavender oil designed to ease everyday anxiousness and foster a positive mood.*
At this point, you might be thinking, "There are so many supplements for stress relief out there these days. Why is this one different?" Here's a quick overview of what makes calm+ stand out from the rest of the pack.
1.
It uses full-spectrum hemp oil.
The star player in this product is the hemp oil, and we were sure to make sure ours was full-spectrum.
The hemp plant is full of compounds called phytocannabinoids that engage the body's endocannabinoid system (ECS) to better handle stress.* One of the most well-known and widely researched phytocannabinoid is cannabidiol (CBD). Some companies choose to isolate the CBD and deliver that one phytocannabinoid alone; this is known as a CBD isolate product.
However, research is showing that the plant compounds in hemp work together to boost the plant's overall benefits in what's been dubbed the entourage effect. For this reason, we opted to use a full-spectrum hemp oil in our blend—one that contains 20 mg of hemp-derived CBD per gelcap and an array of other beneficial phytocannabinoids, terpenes, and flavonoids to really show the power of this plant in its whole form.
2.
We pair our hemp oil with two more diligently sourced botanicals.
While many stress-relief products start and end with hemp or hemp-derived CBD, ours stacks the plant with two more calming botanicals.
First, we add ashwagandha. This adaptogen encourages healthy levels of cortisol (a key stress hormone) and helps the body recover from stress triggers that come up daily.* The main active compounds in ashwagandha are called glycowithanolides; these are what make the plant so good at promoting stress resilience.* The premium Shoden® ashwagandha root and leaf extract you'll find in calm+ features 35% glycowithanolides—the most potent concentration on the market today.
Then comes the lavender oil. The lavender we use in our supplement is chock-full of fragrant linalool, a unique terpene that has also has been shown to enhance calm and ease anxiousness when smelled or consumed orally in a supplement.* Like all the ingredients in calm+, our lavender oil is rigorously tested for purity, potency, and precision, delivering at least 28% linalool content per serving.
3.
It features EU-certified organic hemp.
Let's talk a little bit more about quality. The hemp oil you'll find in calm+ has been certified organic by the USDA as well as the European Union, which has notoriously stricter standards for organic hemp. So you can rest assured that our hemp is never treated with glyphosate or any pesticides that can adversely impact health. In an age when a ton of hemp products are treated with some form of chemical pesticides or herbicides (up to 84.6% of them, according to some sample collection), looking for a certified organic product is super important. The heritage hemp strains you'll find in our product are also DNA-tested and registered in the EU seed bank, meaning they've been safely consumed by humans for decades (with traceability to boot).
4.
It's non-psychoactive.
There's another reason we wanted to source our hemp oil the European Union. While industrial hemp in the U.S. must contain no more than 0.3% THC by dry weight, the hemp in the EU must have even smaller trace amounts—0.2% THC or less by dry weight. These negligible levels are so low that they won't cause any sort of psychoactive effects. Instead, the hemp in our product just provides stress resilience and full-body relaxation.* It's safe to take any time of day, no matter what you're doing, as it won't impair your judgment or make you feel "high."
5.
It comes in an easy-to-consume capsule form.
With hemp oils, tinctures, and beverages, it can be difficult to measure exactly how much of the plant compound you're getting per serving. That's why we chose to deliver calm+ in a gelcap form that delivers the same amount of hemp, lavender oil, and ashwagandha per serving. This makes it easy to know exactly what to expect when taking mbg's product (not to mention the convenience factor).
As one calm+ reviewer Martha Fischler wrote, "Every time I took it, I found that it consistently did the same thing: Smoothed out my rough edges and provided mental clarity, peacefulness, and motivation."*
In a crowded stress-relief supplement space, mbg's calm+ stands out of the pack because of a dedication to purity, quality, and potency you won't find elsewhere.* Learn more about it here.
https://www.mindbodygreen.com/articles/why-calm-is-an-effective-stress-supplement