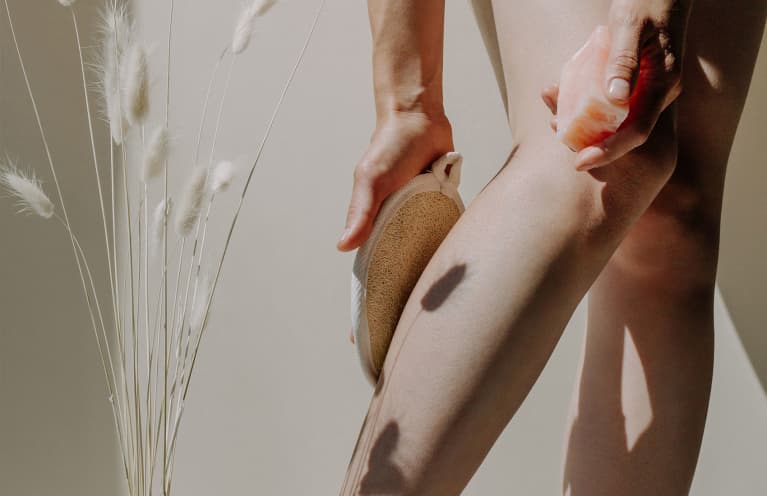 December 18, 2021 — 10:31 AM
I have a complicated relationship with exfoliation. As someone with very sensitive skin that dries out almost instantly, overdoing it even just a little bit can send my epidermis into a temper tantrum. But because I have naturally dry skin, I'm often self-conscious about my flaky appearance—hence wanting something to gently buff away dullness. This leaves me in something of a skin care limbo. I want to do something to improve the appearance and feel of my skin, but if I accidentally take it too far, it'll make my skin worse than where we started. I like to remind myself that I'm not the only one—skin care experts are constantly telling me that they see people practicing questionable exfoliation habits. 
So in an effort to curb those scrubbing mistakes, we're outlining the most common things people get wrong about exfoliation. 
Not understanding your skin type.
If there was a golden rule in skin care it'd be know thyself. If you're not getting in touch with your own skin's needs, you're setting yourself up for failure again and again. How are you supposed to parse through all the marketing, jargon, and social media frenzy if you haven't figured out the basics of your own body? That way, when you're scrolling through social media and you see an influencer rattle off her routine, you can stop, think, and evaluate if her advice would even work for you. Exfoliation is a perfect example of this.
"Exfoliation isn't for everyone," says board-certified dermatologist Raechele Cochran Gathers, M.D. "People with certain skin conditions, very sensitive skin, or those who use certain sensitizing skin care products may become more irritated with exfoliation, so before exfoliating, it's important to know your skin type and be aware of any sensitivities that you may have." Here, we dive into all the signs that you have sensitive skin, if you're looking to know more. 
Learn more about how often you should be exfoliating (if at all) here. 
Skipping post-exfoliation care.
You must hydrate after exfoliating your skin, full stop: Otherwise, you run the risk of making your skin more dry and irritated. Opt for soothing botanicals, butters, and oils that will comfort and deeply hydrate the skin. We also love antioxidants (fun fact: exfoliation can help these penetrate deeper since you've removed some of that top layer of dead skin cells) as they have anti-inflammatory properties and can fight free radicals. 
And this is true for both the face and body. People tend to be more diligent about hydrating their facial skin post-peel (great! Keep doing that!), but you should be doing it for your entire body, too. "If you wait too long, you miss that narrow window of opportunity to really trap and seal those nourishing ingredients in the skin before all the water evaporates off the surface, further compromising your skin," says board-certified dermatologist Whitney Bowe, M.D.
Not keeping track of all the ways you're exfoliating. 
When we think about over-exfoliation, we tend to think about how often we exfoliate—be it weekly, daily, or so on. But we also forget about all the ways we might already be scrubbing away that stratum corneum, such as loofahs, towels, dry brushing, and certain ingredients (like alpha-hydroxy acids) in washes. When you put these all together, you may be already exfoliating your skin plenty as is. 
Treating the body like the face, or face like the body.
The skin on your face is more delicate than the rest of your body—and on the flip side, the skin on your body tends to be more durable. "Body exfoliators shouldn't be used on the face. They are often thicker in consistency and contain higher concentrations of acids and could be too irritating for delicate facial skin," says Cochran Gathers. "Likewise, using a facial exfoliation on your body may not be strong enough to give you the results you're looking for." This is why body and face exfoliators are two separate categories. Now, I'm one who is not afraid of off-label use of products (as long as I am a fan of the ingredient list, I tend to use products as I see fit), but in the case of exfoliation, you really shouldn't deviate too much from instructed use. 
For both physical and chemical exfoliation, you should always opt for something lighter than you think. (You can always up your use or use a harder touch, but it's harder to scale it back once you've started.) "The most important tip is that 'less is more.' You want to exfoliate just enough to increase cell turnover and reveal fresh new skin," says Ife Rodney, M.D., a board-certified dermatologist and founder of Eternal Dermatology. "But be sure to not scratch or damage your skin by overusing these devices or products." 
https://www.mindbodygreen.com/articles/exfoliation-mistakes